Mastering academic challenges
TCA Feuerstein Instrumental Enrichment for students who dance to a difference drummer
MIKE McGEE | 10/5/2015, 1:07 p.m.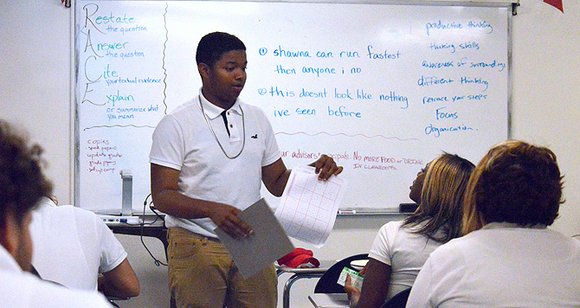 Coupled with such service is educational innovation. Dr. Meir Ben-Hur, recently appointed director of the TCA's Center for Cognitive and Mediated Learning Solutions, suggested the FIE classes are like a mental gymnasium.
"We take students through progressively challenging tasks in different domains; not domains in terms of subject areas but domains of cognition. Let's say, take the spacial-visual domain," he offered as an example. "Within that domain we engage [students] in problem-solving activities that become increasingly complex."
The program lasts three terms and is required for all academy students. During a session, a teacher will discuss the goals of a particular exercise and asks students how they will approach a worksheet assignment, quizzing them on the intellectual processes they will use to accomplish the task.
The teacher never dictates what the pupils need to do to find an answer. Instead, the instructor helps remind the class of the mental tools they have at their disposal and coaches them through potential strategies to best put them to use. The students not only find answers to the problem presented but also map the path to the solution themselves.
"The moment they experience a difficulty, the teacher becomes an important vehicle to bring them to become aware of what makes what difficult and what kind of cognitive behaviors can help them overcome the challenge," Ben-Hur related.
The doctor suggested this method not only creates new problem-solving skills within the teens but also develops their confidence.
"Most students come in with a bag," said the doctor as he mirrored a student carrying a backpack and described the burden of repeat frustration and failure that many students enter the academies with.
However, once the basic concepts of the FIE program are introduced, students realize they can generate a solution to problems through their own efforts. Students are also encouraged in every class session to find examples in their own lives where what they learned from FIE was put into use – or wasn't, but could be in such future situations.
"Mistakes are the most wasted learning opportunity," the doctor stated as he explained that erasing errors on the class worksheets is not allowed. Meir said in a standard classroom course a teacher will usually mark a wrong answer in red and supply the correct answer.
In FIE classes the teacher and student instead use a wrong answer as a starting point to backtrack and examine the thought process that generated the mistake. This in turn sets up an opportunity to revisit the tools of problem-solving with the student.
Such detailed attention and leading-edge techniques work, Marquez believes.
"We graduated 1,086 kids last year which is an amazing number," he acknowledged. "We do almost anything possible we that can afford to see to it the kids get the things they need to get a good education."