Minority pilots launch effort to create networking group
ANGELIA DAVIS | 10/5/2015, 3:04 a.m.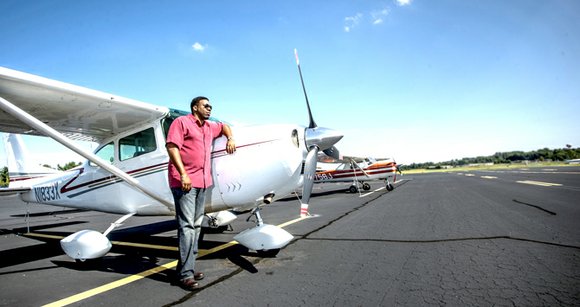 GREENVILLE, S.C. (AP) – Theron Burton's parents – Arie and Oscar – often told him that he could be anything he wanted to be.
Stay focused, work hard, put God first and the sky's the limit, he recalls them saying.
Burton believes he took the latter literally by fulfilling a childhood dream of becoming a pilot.
Another dream he has is also beginning to take flight.
He and Greenville pilot Clint Thompson have launched an effort to create a network group of other minority pilots throughout the Southeast.
Being a Black pilot or a minority is a rarity in a sense, said Burton, a Greenville resident and owner of Connect Electronic Business Solutions, an IT company.
Recent U.S. Department of Labor statistics show that in the aviation industry, 97 percent of pilots and flight engineers are White, 2 percent are Black, 1 percent are Asian, and 3 percent identify their ethnicity as Hispanic or Latino.
"The main reason that I wanted to create this group was get minority pilots together where we would get to know each other and, together, get more involved in what's going on with the aviation community," said Burton, who is married to Tameka Burton.
He said he thinks it would be good if the group could gather to share experiences, knowledge and enjoy fellowship and camaraderie with one another.
But the intent of the group is not to exclude anyone, he said.
The group, which does not yet have a formal name, held its first meeting at the Greenville Downtown Airport.
While most of the 15 who attended were pilots, some were aircraft mechanics and aviation enthusiasts. Many were from the Upstate, while others came from Florida, North Carolina and other parts of South Carolina. The group expects to also draw members from Georgia.
Burton's interest in flying began when he was a child, growing up in Abbeville.
He and his two older brothers worked on their neighbor's farm each summer. One day, that neighbor, Buddy Ashley, offered to take the brothers for a ride in his small airplane, a Cessna 172.
Burton said the neighbor died likely never realizing the impact that one ride had on Burton's life.
He's been "kind of hooked" on airplanes ever since.
"I've always wanted to get back in the air. I've always wanted to be around planes, and eventually I was able to do that," Burton said.
"I think it was that exposure," he said. "I had a neighbor who was willing to take me up and show me something different, and I fell in love with it."
He wishes that neighbor was still around so he could thank him and tell him that "something as small as taking me up in his airplane for 30 minutes made a big difference in my life."
He hopes the new group of minority pilots can make a difference in the lives of other young people by bringing them to the airport and showing them what aviation is all about.
"If you can start when they're young, showing them and having them experience different things, it makes a difference," Burton said. "They're more prone to find something they like early on."