Making a new rap about unity, Black dollars
JAMES G. MUHAMMAD | 10/19/2015, 9:31 a.m.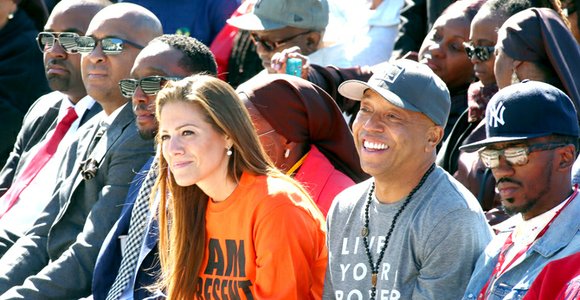 WASHINGTON (NNPA) – The power of hip-hop and the Black economy were the topics of discussion during a press conference at the National Press Club Friday, kicking off the day's events for the "Justice or Else" weekend here.
Real Hip-Hop Network chairman Atonn Muhammad called for an end to community violence and the murders of Blacks by police, adding that rap artists play a key role in the solution.
"Hip-hop is a means to not just influencing Black people, but influencing the world. Our job is to challenge these negative images in hip-hop culture. We're here to make a change," he said.
Atonn Muhammad acknowledged the choices many artists make in order to maintain access to the powerful in the industry. He described a "hidden hand" of those who control the industry that hamper artists – as rappers like Jay Z have admitted in songs – from saying what's in their hearts.
Featured speaker Minister Nuri Muhammad of Indianapolis Muhammad Mosque #74 referred to the criticism that the Honorable Minister Louis Farrakhan has faced as he has sought to meet hip-hop artists during the mobilization of the "Justice or Else" gathering. To that criticism, Farrakhan has said rappers are the leaders in our communities and that one good rap song is worth more than 1,000 of his lectures, he said.
"When you look at any fruit of Louis Farrakhan … you are looking at the fruit of less than 1,000 lectures. When a hip-hop artist has the right idea in their music, you can, with one song, make soldiers better than Malcolm X. You can produce, with one song, soldiers better than Farrakhan. With one song.
"We hope that as those artists have heard from the minister, that you will go home and renegotiate your script for your lyrics. If you're gonna rap, make it a revolutionary rap. Make songs about the struggle for liberation of our people," he said.
Nuri Muhammad said the Million Man March was a "glimpse of heaven" experienced by nearly 2 million men and there has been a yearning among those men to have "another moment in time" where their wives and families can experience heaven.
"10-10-15 is important," he continued, "But 10-11 is critical. We're gathering on the mall to get our marching orders."
Millionaire entrepreneur Rodney P. Hunt described Dr. Martin Luther King and Farrakhan as "change agents" and expressed support for the "Justice or Else" movement. The co-founder of RS Information Systems, which he sold for hundreds of millions of dollars, said he admires the minister's ability to reach people where they are.
He said that African American men and women must show solidarity and courage to build their communities despite their differences.
Panelist Maurice Rashid Hood of The Money Club and GMG Enterprises, both hip-hop-oriented companies, commended the minister for reaching out to the youth and advised others to hear the raw pain of people talking about their lives in their rap.
"Some people can't relate to the way things are said, but this is raw pain. Every song has a message," said Hood. "I thank the minister for accepting the path that was chosen for him which has given me a platform to stand on. Any enlightenment or inspiration that would raise Black people will be opposed by the power structure."
Atonn Muhammad said he invited panelist Robby Wells, who aspires to be the Democratic nominee for president, because as a White candidate he's speaking forcefully about Black issues.
"It's time to stare down the fear of our differences with the face of courage," Wells said. "We need leaders with a plan to restore the damage done to the African American community."