STEM event sparks youth pertinacity
KENYATTA GIDDINGS | 10/19/2015, 10:03 a.m.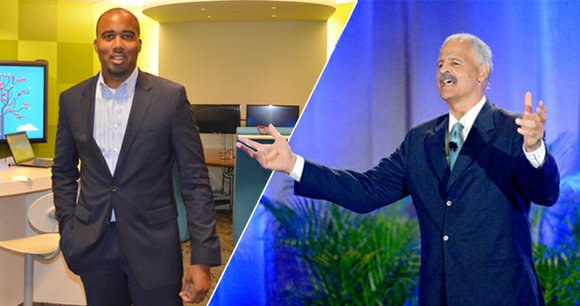 The Dallas Examiner
Children of all ages sacrificed their Saturdays to excitedly descend upon the Irving Convention Center. The space was filled with the lights and beats of an electronic dance music concert. At one point the band from O.W. Holmes Middle School marched into the ballroom to liven up an already buzzing crowd with renditions of Silento's Watch Me and Drake's Hotline Bling.
However, it was not a singing superstar or an Internet celebrity that coaxed these youth out of bed, but science, technology, engineering and math that did the trick.
The event was YouthSpark Live, a free event combining hands-on workshops for students and informative sessions for parents and administrators, produced by The Confidence Group in partnership with Microsoft.
All were exposed to the diversity of career opportunities within STEM and given resources necessary to remain competitive in the future. There was a talk on educational equity in which Chris Evans, Microsoft CTO of Education, defined equity not as "all students having the same thing, but preparing them so that they can all access the same opportunities."
"We've created a funnel to ensure that students, parents, thought leaders, policy makers all have an understanding that enables them to support STEM opportunities for students," said Raamel Mitchell, public affairs and citizenship director of Microsoft.
Attendees listened to a motivational speech full of audience participation given by Stedman Graham, CEO of S. Graham and Associates and most notably, Oprah Winfrey's longtime boyfriend.
The theme was identity, mirroring his 2012 book Identity: Your Passport to Success. Graham invited both children and adults onstage to share their identities and the perils of not knowing who you are. Throughout his allotted time he drilled home the point that status quo – graduating, getting a job and working that job for a number of years – was not success.
"Most people are stuck in a box doing the same things over and over," Graham said before his speech. "They're not actively engaged in their life – they're not thinking or building or creating – they end up just being workers and never reaching their potential."
Graham has been teaching a nine-step success process for the past 20 years that involves defining what's important in life, setting goals, overcoming fears and reversing the learning process. Graham struggled with self-esteem issues throughout childhood to then overcome the odds of his socioeconomic status by reversing his own process. He received a bachelor's degree in social work from Hardin-Simmons University in Abilene, a Master's of Education from Ball State University and played basketball in Europe.
"The process now doesn't teach you how to develop yourself," Graham said. "We should be telling our children to focus on what they're passionate about, and how to give value. When you give yourself value the world gives you value."
While at first the audience of mostly students seemed to be an almost unreceptive crowd to Graham's message, his points were clearly taken by the end of the talk. Afterward parents and students split for different workshops, the parents receiving information on providing children with access to STEM opportunities, and the students interacting hands-on with STEM-related challenges. The first? A teamwork exercise of building the tallest freestanding structure with straws and masking tape.
"All of the students here with us are interested in STEM careers," said Kristy Lee, a math teacher from East Middle School in DeSoto. "Events like this show them there are a lot of opportunities and careers within STEM, and that they're not wasting their time."
Although it was the district's first time attending YouthSpark, the straw challenge is something they'd done before in class. Their instructors had unknowingly prepared them to compete.
"They're comfortable here," Lee said. "They're ready for the challenge."
A room full of student-teams waited for the winner to be announced. Shrieks of joy erupted from a team of DeSoto ISD students who were crowned the winners of the challenge.