Winnetka Heights celebrates National Night Out
JESSICA NGBOR | 10/19/2015, 9:55 a.m.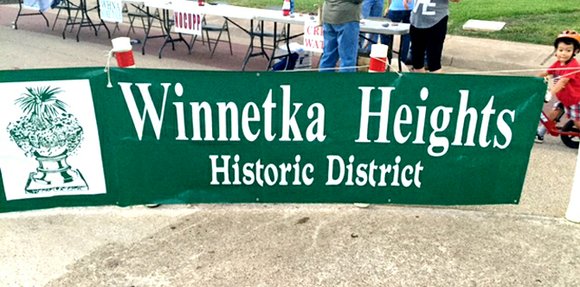 The Dallas Examiner
National Night Out is an annual celebrated event that unites the community amd promotes crime preventions and a partnership between police and the community.
This event began in 1984 and is traditional celebrated on Aug 4, but because of the Texas heat around that time the Winnetka Heights Neighborhood Association held the event on Oct 6 at Heights Garden. Winnetka Heights is one of the oldest and largest historical districts in Oak Cliff. The event included live music, free food, face painting, a bounce house and games open to all kids, adults and pets in the community.
This year also celebrated the expansion of Heights Garden to include the new Rosemont Plaza and new pedestrian-friendly amenities at the Kessler Theater on Davis Street in Winnetka Heights. City Council member Scott Griggs was in attendance to dedicate the park. The association hopes to hold more community events now because of the new expansion.
Information about pet safety and care was also provided as well as microchipping. Pet abandonment is a huge problem the community faces. The association suggests that if you see a pack of stray dogs call 311 and report your location. They also advise when walking with your pets, carry citronella spray or mace in case of an encounter.
The association has a few other events coming up for the end of the year such as October Neighborhood Happy Hour, Nocupp Information Session and The Home Tour that will take place on the first Saturday in December. This event is open to everyone and includes a tour of different homes within the neighborhood decorated in different themes. All proceeds from the event will go to community projects such as sidewalk repair, community events and a grant program.