DA Susan Hawk recovers, makes plans to help others
MIKE McGEE | 10/23/2015, 4 p.m.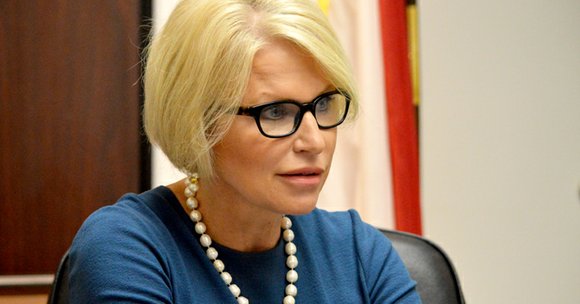 The Dallas Examiner
"I know what it feels like to be in that black hole with a wet blanket over you and you think you want to die," District Attorney Susan Hawk said. "You feel like it, you know it, and you have a plan."
The DA has missed more than two months of work due to major depressive disorder and what she called the credible possibility of suicide.
"You know, if I had waited one more week I wouldn't be here now," she stated during a candid round table discussion on Oct. 12.
Hawk affirmed that she is recovering from the episode after receiving treatment at a private clinic. It was a situation that developed slowly, reaching a pinnacle when she considered resigning from office and ending her life with prescription pills.
She shared that she is determined to use her experiences to improve the treatment of the mentally ill who enter the county's judicial system.
"Now I recognize that ... I think there is a hole in the system, that folks aren't going to be able to get the help I did," she commented as she addressed a divide in mental health treatment for people from varied economic situations. "You know, that costly clinic that I went to, to get help. And that's kind of where I want to focus all my attention on. What can I do to bring light to that situation to get the help to people that need help but can't afford it?"
Her intent is to prevent more incidents like the June 2014 police-involved shooting death of Jason Harris who had been diagnosed with bipolar and schizophrenia.
Hawk said she would like to see more done "on the front end" of intervention in regard to criminal behavior driven by mental instability. She stated that transparency about her own struggle would help garner support for such initiatives.
As she spoke about her illness and treatment, she noted that she was in a position more favorable than many with similar needs.
"I am the first one to step up and recognize I was so blessed to be able to go to the treatment facility where I worked five to six hours a day for nine weeks … on individual therapy and group therapy," she voiced. "I had the best doctors that were helping me. It took that to get me well."
Hawk granted that there was a profound difference between those with a county job who can take weeks off for acute, prolonged mental healing and those with the same issues who find themselves at a county-run hospital like Parkland yet cannot get extended medical leave from an employer.
The DA went on to discuss her concern for the mental wellness of people who can least afford to pay for such care.
"As a judge I ran a mental health diversion program that helped individuals that were mentally ill and were substance abusers," she said.
She then presented statistics that underscored a system in need of more useful tools to deal with such a medical burden.