Erykah Badu to perform Live Nudity
MIKE McGEE | 10/23/2015, 3:57 p.m.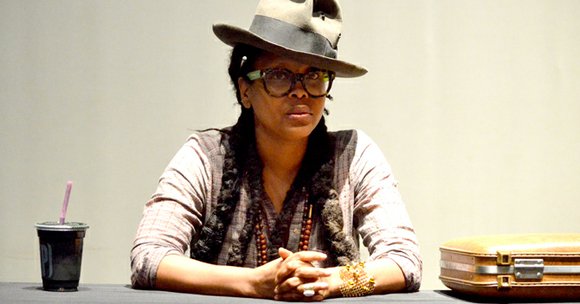 The Dallas Examiner
"I think that art is a vessel that creates dialogue, and I hope it inspires the youth to move," said Erykah Badu about the potential impact of her upcoming stage work, Live Nudity.
The multifaceted Grammy-winning performer spoke on the Naomi Bruton Main Stage at The Black Academy of Arts and Letters Inc. as she took a break from rehearsal of her self-proclaimed "one-human show" and discussed the development of the piece on Oct. 15.
The show will feature improvisation and spoken word performances. Written by Badu, it is being produced by TBAAL board members including founder and president Curtis King.
Badu, 44, pointed out that King has been a fixture in her life since she was 4 years old, performing in plays directed by King at the Martin Luther King Jr. Community Center.
"To sit and to work in tandem has been absolutely amazing," voiced King about the partnership. "You look at a Ruby Dee and then you look at a Badu. That's the caliber of the process that we've had, to see her journey."
However, King and Badu remained distinctly enigmatic about the topic and specific content of the show.
"I'm not going to talk about what it is, but when she mentioned improvisation I said 'Oh, my God,' until I saw the first piece on a video that she did," King divulged. "It's absolutely mind-boggling."
The duo did share that Badu will take on different characters for the piece and the material will be very personal, pulled from deep within her – to the point that she remained emotionally uncomfortable about the performance.
"I've been putting it off for two years," she conceded. "I felt, if I don't do it I'm never going to do it. So I called Uncle Curtis. Why not do it at home, in the theater that I grew up in and was molded in? And I felt like I could be a little less petrified here."
The writer/actress firmly stated that audiences should not come to the theater expecting a concert.
"It just expresses the pure honesty of my many personas. Its kind of stream of consciousness," she said.
The effort of creatively revealing her thoughts, experiences and emotions not only speaks of a vulnerability inherent in the artistic process but then putting such vulnerability before the public has her feeling even more exposed, Badu confirmed.
"Luckily, I designed a piece that doesn't require me to hold it together the whole time," she admitted.
"When I first thought about doing this piece this what I imagined: I would think that I would live stream it. I would sit in the center of the stage with a spotlight in a chair and just improvise because I think people would find that interesting," she said. "But the more I thought about it, I had to kind of mull some things together because I don't know if that would be fair to an audience."
She talked about how she "chickened out" from doing the show at venues in Los Angeles and New York City in the past.