African Amedia: Exhibition of Black life
MIKE McGEE | 9/7/2015, 9:12 a.m.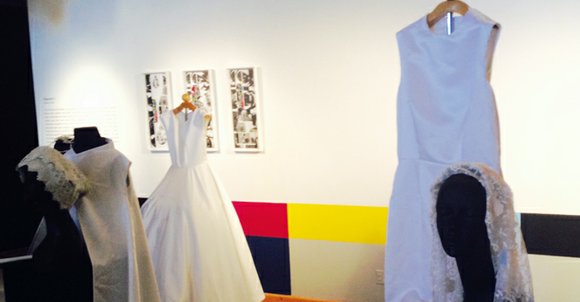 The Dallas Examiner
"The term 'African Amedia' is intended to be reminiscent of 'African American,'" remarked the artist Adu about the name of his exhibition currently on display at the African American Museum. Adu, who envisioned, curated and organized the one-night-only live performance, said that the idea behind the exhibition was to present concepts of how the media views African Americans and how such views can alter the perceptions and expectations of all people.
"African Amedia is so many different things that I still don't have the words for it," he said. "It was such an out-of-body experience."
He spoke about his inspiration; a passion born from seeing so many questionable images of Black people in popular culture.
"It came to me about four years ago just with everything that was happening within the media," he noted. "Not only from the perspective of police brutality and African Americans unfortunately being mistreated and also killed, but it also just came from an overall representation of what the media was putting out there, specifically when it came to African Americans. This is an issue that's been occurring for years and it still has not stopped."
In one part of the exhibition a bank of video monitors is set in front of a painted leather couch, replaying footage of the arrests, beatings or shootings of Black males.
"Just like with any cause or anything going on you're going to bring issue to something that you feel is a problem," he affirmed. "What I'm basically doing is I'm telling people that this is a silent protest … It's also a peaceful protest, letting people see what we're currently facing today."
Another installation entitled "PSA: I AM ART. DON'T TOUCH ME" is made up of large hanging panels that feature images not of violence but rather those of fashion and individual self-expression.
Adu remarked that the large graphic design pieces – which includes text and images of African American's lips, breasts and clothing – also deal with varied themes.
"When you think about art in general, or most art, it's something that you're not going to touch. However, when you do view art you're doing it because you're interested, you're an admirer, you want to know more about it, and so I kind of had that same comparison when it comes to African Americans where we're no longer looked at as valuable citizens, period."
The artist elaborated further on the pieces.
"It stems from saying 'I am art. I am valuable. I should be appreciated. I have longevity,' - and it was that comparison that also comes from just how African Americans also have been objectified."
He added that the concept included hairstyles sometimes being mistakenly considered a form of "hands on" expression by Whites and others.
"It comes from afros and different dreadlocks and hair textures being mistreated as something that is like [an] object or something that is different."
Another section of African Amedia is a presentation called "Grown Girls." The piece, representative of Addie Mae Collins, Cynthia Wesley, Carole Robertson and Carol Denise McNair who all died in the 16th Street Baptist Church bombing of 1963, displays wedding dresses and headwear created by Petit Atelier and Chesley Antoinette, respectively. The ensembles represent the possibilities of the four girls if they had grown up.