Lancaster residents spend a 'night out' on the town
MIKE McGEE | 9/7/2015, 9:15 a.m.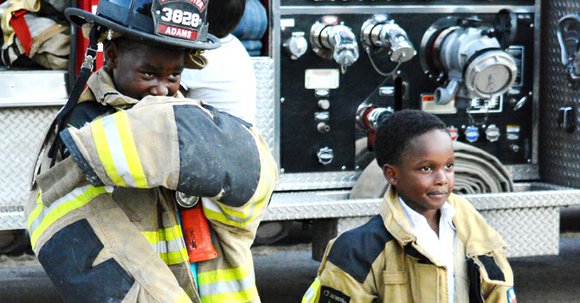 The Dallas Examiner
"I'm glad to see so many people out for our police interaction in the community," Lancaster Police Chief Cheryl Wilson announced. "We're actually serving the community and being a guardian more than being an enforcer – and that's where we're striving to be and that's one of our goals, is to be community-oriented policing and transitioning from traditional policing."
Neighbors took the time to get to know other neighbors, as well as city officials and members of law enforcement, during National Night Out in the Meadow Creek area in Southern Dallas County on Aug. 4. Night out events, designed to create crime awareness and generate support for local anti-crime programs, also took place in various neighborhoods throughout the city.
Westwood V neighborhood resident Naim Rasheed relaxed in the shade of a portable canopy during the festivities. The young man said he viewed the night out as a step in the right direction at a time when the issue of police violence toward African Americans trends prolifically on social media and many in the community still recall the shooting death of police Officer Craig Shaw in 2010.
"With all the attention, nationally, with all the police shootings and all that, it's good to know the police's faces. They get to see the community up closer. It's more than just policing – you get to know the people instead of just policing them," the resident said. "It just lifts that barrier."
City Manager Opal Mauldin-Robertson considered the event a celebration and strengthening of community.
"Talking about neighbors, getting to know neighbors, working together, to make sure that we let people know that we don't want crime and we're going to do what we can to keep it out of our community," she indicated during a stop in Meadow Creek.
Lawanda Ross, another resident of Westwood V, agreed that the don't-be-a-stranger philosophy of the NNO was key to crime prevention.
"It just means to me the neighborhood's getting together and meeting all the neighbors, getting to know your neighbors, and also kind of letting them know what you think is going on in the neighborhood," she said.
As a mother she felt that the NNO was especially helpful at creating a safer place for children.
"I'd like to know my neighbors so I know to look out for them if they're going on vacation," Ross voiced as she served hot food to attendees. "I want them to look out for me and my little ones – I got little ones running around – and so you just want them to be aware of what's going on."
The chief urged children aged 13 through 17 to join in the city's Junior Police Academy program and took questions from the small crowds. During the Westwood V gathering one resident asked about crime rates in the area.
The chief acknowledged that burglary of a motor vehicle was the most common crime to occur within city limits. She further remarked that 80 percent of the thefts involved cars being left unlocked; small groups of burglars begin on one end of a street, open car doors that are unsecured, take what they want, and meet at the opposite end of the street.