New Orleans, a tale of two cities
City thrives, Blacks struggle to gain economic equality
RHODESIA MUHAMMAD | 9/7/2015, 9:17 a.m.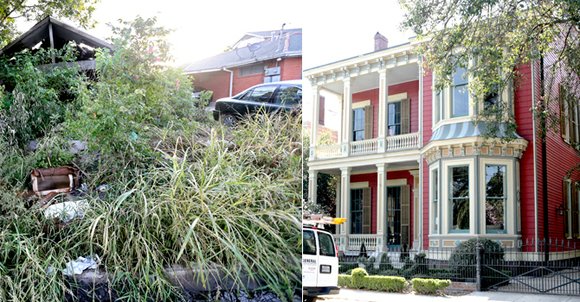 NEW ORLEANS (NNPA) – It's been a decade since millions across the world witnessed the aftermath of what is known as one of the largest, costliest and deadliest hurricanes to ever hit the United States. With a death toll of nearly 2,000 and over $150 billion worth of damages, 10 years later, New Orleans is still recovering from this catastrophic event that left levees compromised and 80 percent of the city underwater beginning Aug. 29, 2005.
"The lack of jobs is the simplest reason why New Orleans and the surrounding areas have not fully recovered their pre-Katrina populations," said Allison Plyer, executive director of the Data Center.
She also mentioned flood recovery was a contributing factor, particularly for low-income residents who didn't have the means to fix up their homes or renters who suffered from lack of programs aimed at non-homeowners.
The city had a population of about 485,000 people before Katrina and fell to an estimated 230,000 afterward. In 2014, according to the Greater New Orleans Community Data Center, the population has increased to approximately 380,000, about 78 percent of its population before the storm. Post-Hurricane Katrina, the population of Blacks in New Orleans dropped by nearly 100,000, while Whites dropped by almost 10,000. Hispanics increased by approximately 6,000 as of 2013.
"New Orleans' recovery is a tale of two cities," Plyer said. "So what we're seeing is growing income inequality. Many of our White households are doing much better, but Black households are not. We see employment rates for Back men are virtually the same that they were before the storm, but for White men they are much better."
The opinion of recovery efforts is also split along racial lines, she noted.
"So you'll talk to White folks and they'll say, 'Wow! The city is doing much better. Never been better, all these great things are happening, entrepreneurship; the economy is great, our wages are up … etc., etc.' But you'll talk to Black folks and they'll say, 'Things are much worse, a lot of our neighbors aren't here. It's been such a struggle to rebuild. I don't even have some of the business networks I used to have.'"
In the last 10 years, the median income for Black families grew by 7 percent and is $25,102 while the median income for White families grew by 22 percent and is $60,553, a difference of $35,451.
"Our area was hit the hardest, yet, somehow it seems to be the slowest to recover," said Dorothy Cook, resident of the lower Ninth Ward, "Ten years later, there are still too many abandoned houses, vacant lots, raggedy streets, grass so high it obstructs the view; making it an unsafe area. Many of the people in my community didn't return; not because they didn't want to, they couldn't. I only came back because the rent in the city was too high. I figured I might as well pay on my mortgage which was much cheaper. But the ordeal of rebuilding was beyond difficult. As a single woman, I felt I was taken advantage of.