ManCODE on being a Black man in America
MIKE McGEE | 9/14/2015, 11:55 a.m.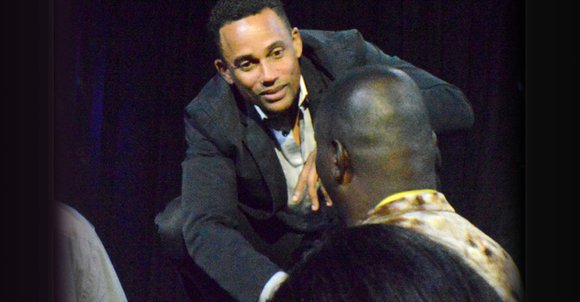 The Dallas Examiner
"Define manhood for us from your individual perspective."
With that, Hill Harper got The Root's ManCODE panel rolling on Aug. 22 during MegaFest. The actor and writer expressed that the query was drawn from the collective experiences of men – especially Black men of faith – in a culture saturated by conflicting social and political messages from the mass media. The larger discussion examined what it means to be a Black man and involved a range of participants from varied walks of life.
Participants included Benjamin L. Crump, attorney for the family of Trayvon Martin and president of the National Bar Association; actor Dondre Whitfield; Dr. Deforest Soaries, the senior pastor of the First Baptist Church of Lincoln Gardens in New Jersey; Michael J. Sorrell, the president of Paul Quinn College; Terrence Southern, the executive director at Illuminate STEM and robotics and automation engineer; and Joseph Anderson with Prudential Annuities. One by one each individual offered his take on Harper's proposition.
"Manhood to me is responsibility," Crump replied. "It is responsibility to me, my family, my community – and teaching them to address this issue with concern, and the opportunity that God has put before them in a responsible fashion where you can be an example for your family, your community, and all those young men who need an example."
Soaries' provided a faith-based definition.
"Manhood to me is embodied by the example of Christ, because Christ showed us that manhood is really about service and sacrifice," he claimed. "A boy is someone who looks to be served while a man looks to be of service."
Sorrell suggested that a man would leave things better than they were before they arrived.
"It's about having the ability each day to improve upon who you were the day before."
As the discussion went on Harper bemoaned how the mass media often portrayed African American men, or tended to focus more on the negative aspects of being an American Black man.
"We all as individuals, whether you're a Black woman or a Black man in this country, know what the real deal is – there are many stories to be told and most often the media doesn't tell them," he decreed.
The actor asked Sorrell what he saw in the characteristics of the young men on his campus that offered him optimism.
"I see a campus full of young men hungry to become great," the president answered. "Every day they are looking for problems that they can solve and they can put their imprint on. Now what they need is encouragement. They need the support. What they need is love, but when we give them that – when we tell them we love you, we are going to stand with you – they thrive."
However, in an effort to be "real," Harper admitted that data showed most college students were not Black men and three-quarters of young men are being raised by a single mother.
"So even when we decide to have a child there are at least … 60 to 70 percent of the men decide not to be at home with their children," he pointed out. "What does that tell us? Because we know when brothers are showing up to college they want to do well and they are excelling but a lot don't get there. We know that when brothers are actually parenting their children they're doing it effectually but a lot don't get there. What do we have to talk about, or what should we focus on, to decide to talk about the brothers who aren't quite there?"