Program offers college courses to inmates
JAZELLE HUNT | 9/14/2015, 10:54 a.m.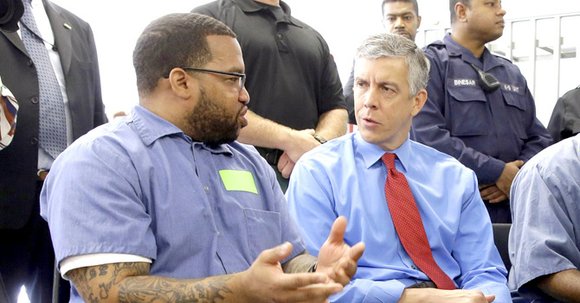 WASHINGTON (NNPA) – Brandyn Heppard usually arrives 30 minutes early for his visits to Northern State Prison in Newark, New Jersey. He puts his pre-approved belongings in a clear plastic bag made on-site and signs his name in the visitor logbook.
Then, he walks through the first of a few metal detectors, and stands still to have a wand waved across his body and to be patted down. Heppard is escorted through five locked or guarded doors and gates before arriving to the bare, windowless classroom where he teaches philosophy courses as part of the New Jersey Scholarship and Transformative Education in Prisons Consortium, known as NJ-STEP.
This summer, the Department of Education announced an experimental Second Chance Pell Pilot program to examine how such prison education programs could be continued and expanded. It marks the first time in 20 years that qualified students will have access to Pell grants while in prison.
Last week, Secretary of Education Arne Duncan invited Heppard and other corrections educators, as well as Department of Corrections administrators, to his office for a roundtable on the ins-and-outs of their work. The meeting served as a primer for Duncan's team in preparation for the pilot application process.
"I'm extremely hopeful about the action we're taking, and I expect it will transform people's lives," Duncan said. "I think it will save taxpayers a hell of a lot of money in the long term, it will reduce recidivism … we have big dreams here."
Most prisons offer some educational options, which they fully fund. College courses, however, are only available through correspondence or partnerships with universities, and come at a cost to the incarcerated students and their families.
But those on the ground say funding is just the tip of the iceberg when it comes to educating the nation's roughly 1.5 million adults in state and federal prisons.
Blacks made up 37 percent of the males incarcerated in state and federal institutions; at 22 percent, Black females trailed White women (49 percent), but are incarcerated at twice the rate of White women, according to the Bureau of Justice Statistics at the Justice Department.
"[Prison education] can become a very political issue. It's definitely an issue of equity, but often once you bring in the criminal justice aspect of it, a lot of people start to say, well, do inmates deserve this? The equity question gets lost," said Heppard, who is tenured at Raritan Valley Community College in New Jersey.
During the meeting with Duncan and in interviews with the NNPA News Service, educators repeatedly mentioned that skepticism, in both corrections and academia, were a major challenge.
"[My students] are working, they're going to school, they're learning a trade, they're doing a lot of work on themselves. They're in counseling, anger management, and in all kinds of opportunities made available to them," Heppard explained. "The students taking college courses are the best of the best, they're the people who are working the hardest on themselves, and really thinking about reforming."