Grieving mothers unite with Emmett Till's relatives
ERICK JOHNSON | 9/19/2015, 9:56 a.m.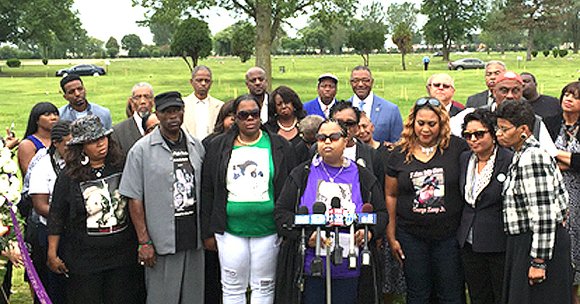 CHICAGO (NNPA) – It was Geneva Reed-Veal's turn to speak about her life after the death of her daughter, Sandra Bland.
The room was silent as Reed-Veal gathered her thoughts.
"I'm tired. I'm tired of crying and tired of talking. But I'm not tired of fighting," she said as cheers erupted from the crowd.
Reed-Veal was among several grieving mothers who commemorated the 60th anniversary of Emmett Till's death during an emotional dinner tribute at the Hyatt Ryatt Regency McCormick in Chicago on Aug. 28, the exact date of the 14-year-old's brutal murder by two White men near Money, Mississippi.
The dinner was part of an intense weekend of events that rekindled strong memories of a highly publicized murder whose killers were never brought to justice, even though they acknowledged murdering young Till, who was visiting from Chicago.
The memories stirred up emotions among mothers who have lost their children to violence in recent years. On Friday at the dinner, they expressed their pain and challenged approximately 200 guests to channel their anger with activism and fight for justice for their children and the future of Black youths in America.
"People ask me why I don't smile all the time, but it's not a joke, I lost my child. This is serious, " said Sybrina Fulton, the mother of 17-year-old Trayvon Martin, who was killed by George Zimmerman, a former neighborhood watch captain in Sanford, Florida, in 2012. Zimmerman was acquitted of murder charges a year later.
Bland, a 28-year-old Black woman from Chicago, was found hanged in a Walker County, Texas, jail cell July 13 after she had been arrested three days earlier by State Trooper Brian Encinia on a minor traffic charge.
"For those of you who say, 'I'm Sandra Bland,' don't say it if you're not going to do anything," said Reed-Veal, who filed a wrongful death lawsuit against Texas law enforcement officials in connection with her daughter's death.
During the memorial, the life and death of Till was revisited at Roberts Temple Church of God in Christ in Chicago's historic Bronzeville community, where faith leaders kicked off an anniversary weekend to remember Till, whose funeral was held at the same church on Sept. 6, 1955.
Till was abducted, brutally beaten and killed on Aug. 28, 1955. His body was found in the Tallahatchie River grossly disfigured and weighted down with barbed wire tied to a large cotton gin fan.
Many young Blacks in the South were lynched and killed during the Jim Crow era, but Till's brutal death would draw immense publicity after his mother, Mamie Till Mobley, allowed an open casket funeral to show the world what was done to her son.
Till's killers, J.W. Milam and Roy Bryant, were acquitted of murder charges in a trial that lasted only one hour. The injustice of Till's death would be painful reminders today for grieving mothers who lost their children in past years to police incidents that continue to fuel concerns that racism is still pervasive in America.