Top chefs take on MegaChef Cook-Off
DIANE XAVIER | 9/19/2015, 9:20 a.m.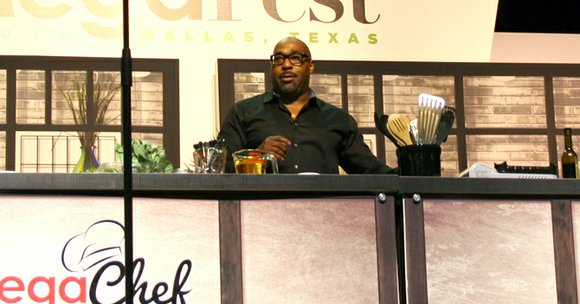 The Dallas Examiner
A few of Dallas' top chefs showed off their culinary skills at the first MegaChef Cook-Off held during MegaFest at the Dallas Convention Center on Aug. 22.
Chef G. Garvin, host of The Food Network's series, Road Trip with G. Garvin, hosted the cooking competition in which local chefs Sharon Van Meter, Chandi Dugal and Kevin Curry competed against each other in order to make the best appetizer and entrée.
"Food and cooking is my life so I try to eat healthy six out of the seven days of the week," Garvin said. "During those six days, I avoid sugar, carbs and fattening foods. Today, these chefs will make an appetizer in the first round. One of which is healthy and the other which is regular. Afterwards, the judges will decide which top two chefs will advance to the second round where they will make an entrée."
The contestants were given groceries to work with along with a kitchen and utensils to make the most creative and tasty dishes.
"Our chefs will make their dishes and interact with the crowd," Garvin said. "The cook-off will give audience members tips and ideas on how to make healthy dishes, make healthy food choices and give some cooking tips as well. The audience will also get to sample some of the food made by the chefs and myself."
Van Meter, who prepared a shrimp bisque as her appetizer, is a graduate of Le Cordon Bleu in Paris, France, and has been a chef in the Metroplex for over 35 years.
"When I first went to cooking school in France, they made me cry," she said. "But, I have grown to love cooking and have a passion for it."
Currently, she is president of SVM Productions LLC, a culinary media production company.
Dugal, a caterer from India, mostly cooks Indian cuisines but also makes others such as Italian, Thai and Chinese dishes. Her appetizer included shrimp tikka masala, a popular Indian curry.
Dugal said her parents inspired her to become a chef.
"The tradition and legacy of good cooks has been in our family," Dugal said. "I usually cater anywhere from small parties to large parties up to a 100 people."
Curry, founder of FitMenCook.com, made some bread with chicken as an appetizer. He said he was inspired to start eating healthy and learn to cook on his own after struggling with his weight.
"I used to be overweight and one day when my friend tagged a picture of me on Facebook, I said, who is that guy, it turns out it was me and I didn't even recognize myself because I was so out of shape," he said. "I decided to do something about it. I started working out and started cooking on my own and making my own healthy dishes."
Curry now has a blog and an Instagram page and Tumblr page where he shares his photos and cooking recipes with over 250,000 followers.
The first round of the competition took 30 minutes and afterwards, Dugal and Van Meter advanced to the second round.