Top chefs take on MegaChef Cook-Off
DIANE XAVIER | 9/19/2015, 9:20 a.m.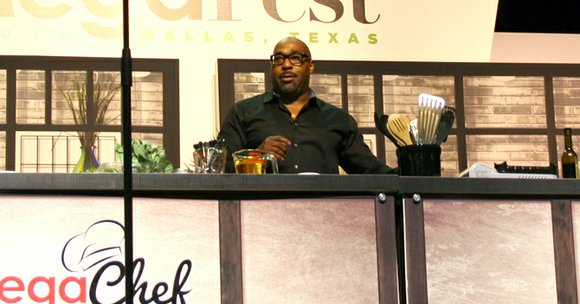 According to the judges, all the appetizers were tasty, however, Curry was sent home due to the fact that he didn't quite follow directions.
"Each contestant was supposed to make a healthy appetizer and one regular appetizer using the same foods," Garvin said. "Since Curry made two healthy appetizers instead of two different ones, he got third place."
In the final round, Dugal and Van Meter had one hour to make an entrée.
Dugal made butter chicken with ginger rice.
"This was really tasty," said former Dallas Cowboy player Akin Ayodele, who was among those judging the dishes. "There was a lot of flavor to her dish."
Van Meter made steak with avocado and corn relish, which the judges also agreed had great flavor.
After the taste test by the judges, Van Meter won first place.
"Both entrées were really good and tasted yummy but the reason why Van Meter won was because of her presentation, which was better than Dugal's, so that is the main reason why Van Meter won," Garvin said.
Both Van Meter and Dugal won $500 dollars each for their efforts and for placing first and second in the competition.
Afterwards, Garvin showed off his cooking skills and made some healthy salads and macaroni with shrimp for the audience to taste while he entertained the crowd with his dancing skills.