Black Economic Empowerment: Pilot entrepreneurship program aims to train Black business owners for success
HAZEL TRICE EDNEY | 9/26/2015, 8:27 a.m.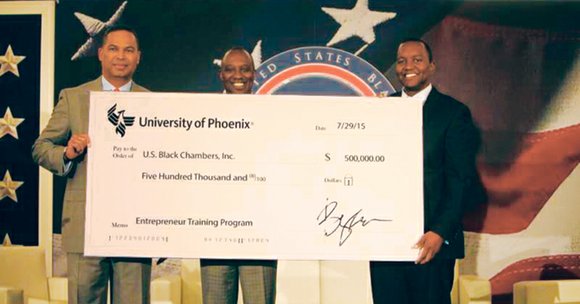 WASHINGTON – Cathy Hughes went from sleeping on the floor of her radio station as a struggling single mother to the ownership of the largest Black-owned broadcast company in the U.S. and the first publicly traded company owned by an African American woman.
The late Ebony/Jet Publisher John H. Johnson, whose father was a sawmill worker and mother a cook, rose to become the first Black man to be listed among Forbes' wealthiest Americans.
These entrepreneurs are often used as examples of the thousands of African Americans, who, through courage, ingenuity and tenacity, have succeeded in every level of business ownership in America. And financial experts say entrepreneurship is growing among African Americans across the U. S. despite the still frail 2015 economy.
The University of Phoenix School of Business aims to fuel that growth by backing a new entrepreneurial education and training program with a $500,000 grant. The pilot program, in partnership with the U.S. Black Chambers Inc., is set to begin Jan. 1, 2016. It targets African American small business owners, including USBC members, in various cities across the U.S.
In a joint statement, the program is described as "a three-course, 15-week credit-bearing program that includes online classroom instruction taught by School of Business faculty, and takes students through courses including personal cash flow, market analyses and financial performance."
The release says, "Students will create their business plans using this customizable program to develop a business model, strategy, financial forecasts, competition benchmarks and implementation and performance tracking."
The USBC-University of Phoenix program comes amidst a growing trend of Black entrepreneurship across the U. S. In its most recent reporting on business ownership, the U. S. Census says the "number of Black-owned businesses increased at triple the national rate" between 2002 and 2007. More recently, in June this year, Forbes reported that the number of businesses owned by African American women has grown 322 percent since 1997, "making Black females the fastest growing group of entrepreneurs in the U.S.," according to a study commissioned by American Express Open.
Also, Black Enterprise recently reported an increase in entrepreneurship programs at Historically Black Colleges and Universities. The magazine said the growth in entrepreneurship coincides with innovative ways to deal with pessimistic job outlooks for youth and a still flailing economy and unemployment rate when it comes to African Americans. Though Black unemployment rates recently dipped below double digits, it remains twice that of Whites. Black unemployment rates for youth ages 16 to 24 also exceeds 28 percent, twice that of White youth.
Targeting those who appear to be at the greatest economic disadvantage is apparently driving the new program, according to a release.
"University of Phoenix is pleased to partner with USBC to provide African American small business owners and entrepreneurs an exclusive program integrating teachings from business courses with insights from local market experts who understand the economy in their communities," said Byron Jones, chief financial officer, University of Phoenix. "The U.S. Black Chambers Business program allows participants to experience some of the most challenging exercises business owners undergo with the training, support and counsel they need from seasoned professionals with demonstrated success in owning and managing a business."