A green transition for Highlands Hills
NORMAN J. DOTSON JR. | 9/26/2015, 8:58 a.m.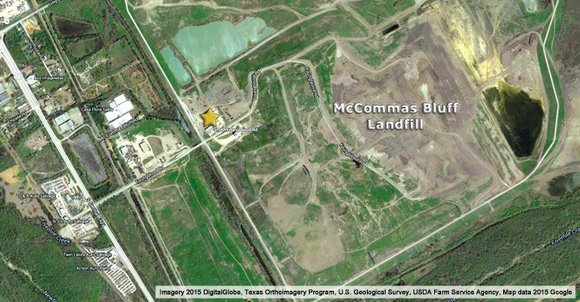 The Dallas Examiner
Highland Hills could be seeing a transition in the McCommas Bluff Landfill starting within two years. Deputy Mayor Pro Tem Erik Wilson, District 8 councilmen, held a meeting with members in the community to discuss this opportunity to phase out what has been described by many as a large problem for residents near the facility.
"Growing up over here I can tell you that on certain days with the right amount of wind you can tell exactly what is in that landfill," Wilson stated.
The landfill, located at 5100 Youngblood Road and outlined by I-20 and I-45, is within walking distance from its nearest residential area. It is also surrounded by many elementary, middle and high schools, with the closest being only 5.8 miles away and 2.6 miles from Paul Quinn College.
This has caused many complaints over the years about the smell but also the possible health hazards that residents may face. The newly proposed recycling facility will sit on 15 acres of the landfill and will not handle any hazardous materials – only sorting of recyclable materials.
Fomento de Construcciones y Contratas, based in Houston, had the most advantageous proposal for this site, according to a background document on streamlining recycling processes presented by the Department of Sanitation. The document also outlined some benefits that this proposal would have for the city as it was the only proposal that guaranteed positive financial value, would create an estimated 27 jobs at $12 an hour for residence in that area, and included a marketing strategy that combined local and international markets. FCC would bear capital cost of building the facility and ownership of the facility would transition to the city at the termination of the 15-year contract if no contract extension is approved.
"The City Manager's office has given me a signed memorandum that ensures that the city will pay for an economic development study of this area which will help us address many problems this district has faced," Wilson said.
This economic development study will be used to guide new opportunities and developments along the 310 Corridor. The memorandum also had a draft of what the study would entail and how the process would be handled by the city. The study would investigate possible environmental hazards and explore the effects that the landfill has on the community at large. Also it would explore opportunities for economical growth in the area as well as create jobs and job training.
There has never been a land study for this area before and could take up to a year and a half to complete, according to Wilson. But he and other city officials hope to get this process started by the end of the calendar year.
"My goal with this meeting is to see what you all want me to do," Wilson stated. "If you vote no we run the risk of nothing happening anytime soon with the landfill but if it's not something you all want I will vote no on this."