Rare anti-slavery book owned by Du Bois
ERNIE SUGGS | 4/4/2016, 7:50 a.m.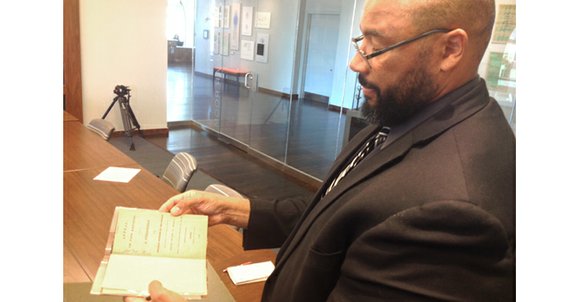 The Atlanta Journal-Constitution
ATLANTA (AP) – Randall Burkett still remembers the phone call.
A book dealer in New Jersey called him on behalf of a private owner of a copy of David Walker's Appeal to the Colored Citizens of the World.
"He called and said, 'We got this and would you be interested?'" said Burkett, the founding curator of Emory University's Stuart A. Rose Manuscript, Archives and Rare Book Library's African American collection.
Up until about three months ago, there were only six known original copies of Walker's Appeal, which was originally written in 1829 by a free Black man as a scathing and controversial rebuke of slavery.
It is thought to be the first book written and published by an African American, and while Walker has been lost to everyone aside from scholars, his writings have been considered the bedrock of Black nationalism.
In addition, the dealer said that this particular copy was once owned by W.E.B. Du Bois, the noted civil rights activist, historian and writer, who also taught at Atlanta University.
Burkett got on a plane to New Jersey.
"After I saw it, my first thought, was 'How are we going to find the money to do this?"' he said.
Burkett won't say how much he paid for the book, but it is safe to say that any rare copy of Walker's Appeal, as it is commonly known, is priceless. This 1829 edition is one of three first editions that can be found in libraries. The remaining four early editions, also scattered in libraries, are from 1830.
At Emory's Rose Library, it will now be studied alongside first editions of Phillis Wheatley's Poems on Various Subjects, Religious and Moral (1773); J.A.U. Gronniosaw's A Narrative of the Most Remarkable Particulars in the Life of James Albert Ukawsaw Gronniosaw, An African Prince (1790); and Benjamin Banneker's Almanac (1793).
"We have such a strong collection here and this just enhances it," Burkett said. "It also enhances the awareness and opportunity for research here."
But Pellom McDaniels III, a faculty curator of the African American Collections, said the discovery is a little more personal for Burkett.
"For him, this is nirvana," McDaniels said.
Earlier this month, McDaniels carefully removed the book from its protective glass case and placed it on a foam podium. He noted the smell of the book. A warm aroma of wood and vanilla emitting from the cracked cardboard edges and weathered 187-year-old pages.
He gently opened it to the front fly where Du Bois' name is signed in cursive.
Du Bois' stamp is on the title page – which offers the full name of the book, Walker's Appeal, in Four Articles, Together with A Preamble to the Colored Citizens of the World, But in Particular, and Very Expressly to Those of the United States of America.
Throughout the book, McDaniels points out places where Du Bois marked through it.
In Du Bois' 1940 autobiography Dusk of Dawn, he wrote that Walker's Appeal was a "tremendous indictment of slavery," and recognized its importance as the first "program of organized opposition to the action and attitude of the dominant white group."