Remembering Dr. Theodore R. Lee Jr.
MIKE McGEE | 4/4/2016, 8:02 a.m.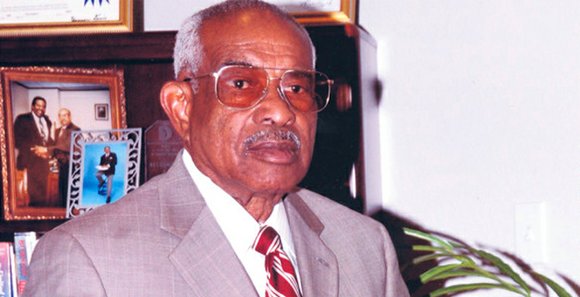 The Dallas Examiner
When Dr. Theodore R. Lee Jr., publisher of The Dallas Post Tribune, died March 2 at the age of 86, he left behind the oldest and largest Black-owned newspaper in North Texas. To those who knew him, Lee also left behind a life defined by service to his community.
In an editorial by Dr. J. Ester Davis published in his publication, she penned that the doctor had what she described as two missions of service.
"He taught children on all levels the first half of his life and owned operated a renown Black newspaper the rest of his life. He never retired … nor used the word," she wrote.
The paper began in Tyler when founder Bert Muse published The Tyler Tribune in 1947. The newspaper's website states that the publication moved from East Texas to Dallas in 1950.
In 1962, Lee was among a new set of owners, along with attorney Fred Finch Jr., Lee J. Davis, J.H. Glenn, Dr. Judge Page, attorney C. W. Asberry, J. Graham and H.L. Logan. The new group of owners changed the name from the Star Post. It was eventually renamed The Dallas Post Tribune.
Lee and his wife Dorothy took over the publication as the publishers in 1995 after his long career as an educator.
"As a kid growing up in Dallas I threw The Dallas Post Tribune at the age of 5 with my little red wagon," voiced Theodora Lee, the daughter of Lee and co-chair of the board of directors at the paper.
The younger Lee mentioned that, just as the paper has been an ever-present feature of her life, so too was her father's desire to improve not only his family's life but the lives of those within the local African American community.
"My father was born in Midway, Texas, the son of a tenant farmer," Theodora said. "He left home as a teenager because he saw no future in tenant farming, so he moved in with his aunt in Dallas, worked as an orderly at Baylor hospital – the very place where he died – and saved money in order to go to college."
Lee went to Jarvis Christian Collage where he met his future wife, Dorothy, and earned money by working in the school's library.
Theodora stated that after her father graduated he served in the U.S. Army. He began teaching once he completed his military service.
In 1959, he taught at an evening school at Wiley College and Prairie View A&M, according to a previous report. He also taught in Dallas ISD schools and later became the principal at Albert Sidney Johnson Elementary School in South Dallas – the school's first African American administrator.
Theodora stated her father eventually became deputy associate superintendent of schools for Dallas ISD and had also been the first African American dean at what is now the University of North Texas. He was also a cattle rancher at one point and raised racehorses.
"He was a man of many talents," Theodora remarked.