App helps lower water bill
MIKE McGEE | 4/18/2016, 12:13 p.m.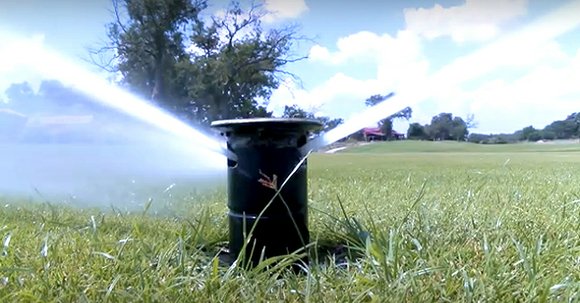 The Dallas Examiner
When spring rains give way to summer temperatures, limits on lawn watering become a regular fixture in the area; at the same time, very few residents find their water bills to be a welcome message in their mailboxes. However, a free cyber tool developed by A&M AgriLife Extension Service can assist residents with their year-round water management, The North Texas Municipal Water District noted in a statement.
One issue that the NYMWD underscores is that residents will often program their lawn sprinkler systems using the automatic setting in the belief that running the system at specific times will help manage their water use.
The organization warned that the method could instead lead to a resident using 35 percent more water than if they employed the manual setting.
"Operating sprinklers manually can ensure that residents water only when necessary," wrote the NTMWD's Water Resource Program and Public Education Manager Denise Hickey in a prepared statement.
She said WaterMyYard.org uses real-time, local weather station data based upon a user's ZIP codes.
"Typically, when you're trying to educate on the amount of water that your lawn actually needs it's been given in terms of you only need to water a half an inch, or an inch," Hickey explained. "The question was, 'Well, how do I know how long to set my irrigation system for?'''
The cyber tool, online since May 2013, helps with that information in a "user friendly" way, she noted.
Customers who use the services can get emails or text messages with recommendations on when to water their lawns and for how long.
Kathleen Brooks is one local who estimated she has been using the site since 2014.
"When you set up your account you tell it what kind of sprinklers that you have and it's pretty easy because there's only about three choices – and most people can figure out what kind of spray comes out of their sprinkler heads," she remarked. "I like it because it reminds me when I'm supposed to water." The application also keeps track of when it rains, she said, so that she waters only when needed rather than as part of a potentially wasteful pattern.
"So I think I save a lot on water utilities," she admitted. "I think the water bill is lower since I've been using it. I think that it makes a difference."
The NTMWD offered data that supports Brook's assessment of the tool's results.
Baselice & Associates conducted a survey of a cross-section of 500 NTMWD residents in 2015 from Oct. 15 to Oct. 18. The results indicated that 8 out of 10 North Texas residents mistakenly believe they used more water inside their house than outside.
In reality, most water during the summer months gets used outside the home. Watering a lawn for 30 minutes used the same amount of water as a four-hour shower, per the NTMWD.
Residents understanding their actual water use in conjunction with the website would result in less waste of the natural resource, the survey implied.
There are some parts of the Metroplex that are not able to utilize the system, Hickey cautioned, including areas in the southern region of the county.
"Not all of North Texas is covered," she voiced. "Just the service areas that get water deliveries from the North Texas Municipal Water District."
Tarrant Regional Water District has a similar program it promotes on Facebook; Austin is another location with its own system in place. Areas that are served locally are listed on the webpage, Hickey added.
"It really helps educate the homeowner," the manager said as she summarized the purpose of the website. "They actually can use less water than they think they can to keep a healthy lawn."