Mahalia: The Gospel Voice Musical
JESSICA NGBOR | 4/18/2016, 12:21 p.m.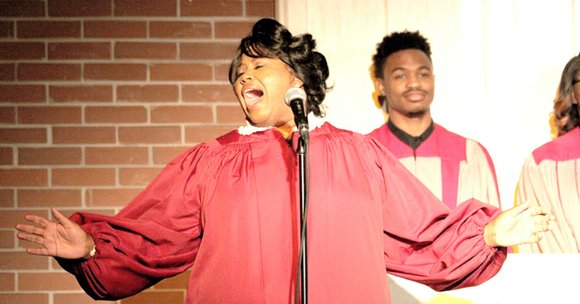 The Dallas Examiner
Andrea Wallace graced the stage as she portrayed Mahalia Jackson and moved the audience to a state of worship and praise. The two-day gospel musical, written and directed by Curtis King, was held at the Clarence Muse Café Theatre on April 1 and April 2.
Wallace is a vocal instructor and feature soloist on the award-winning album "Set Me Free" by Myron Butler and Levi. She was also a member of the Grammy-award winning group God's Property. She has also performed with the late Gerald Levert as well as Najee, Kirk Whalum and many more.
The musical was divided into two acts and began telling her early journey before Jackson earned the title of "The Queen of Gospel."
It all began deep in the South for Jackson, who also went by Halie. She was born in New Orleans, Louisiana, where she started singing at a very young age at Mount Moriah Baptist Church. She explained how she was in church every day throughout the week, whether it was for Bible study, mid-week service or choir practice. Sunday nights were reserved for dinner where her mother would cook popular Southern dishes like collard greens, cornbread and black-eyed peas. She always loved being in the church and singing.
Her Aunt Bell believed that she had something special in her and that one day she would sing in front of royalty, which would eventually come to pass. After singing around churches all over New Orleans, she knew that God had a greater calling for her life, so at the tender age of 16 she moved to Chicago.
Although she didn't know anybody in the city, she quickly found a home at the Greater Salem Baptist Church. One Sunday she was asked to sing on the spot, so she performed Hand Me Down My Silver Trumpet, Gabriel. She blew the church away with her voice and eventually joined the choir. She would sing all over Chicago at different churches, singing songs like How Great Thou Art.
One day at a restaurant she met Thomas Dorsey, who was known as "The Father of Gospel Music." After exchanging information, she sang for him and that was the beginning of a 14-year touring relationship around the world. She looked at Dorsey as a mentor and he often gave her singing advice.
During the one-woman show, Wallace sang Joshua Fought the Battle of Jericho, the audience clapped and nodded in response. She also performed Trouble in My Way, I Found the Answer and Didn't It Rain.
In Act II, Wallace sang a few more of Jackson's songs and talked about her tour in Europe and her involvement in the Civil Rights Movement with Dr. Martin Luther King Jr.
She said Jackson often sang at King's speeches and events. She sang at a rally in Montgomery, Alabama, and sang I Been 'Buked and I Been Scorned at The March on Washington.
Despite getting death threats and people accusing her of being a racist and a communist, she was determined to follow the Lord's calling in her life even as her health began to deteriorate. She continued performing, encouraging and blessing those who crossed her path.
Jackson will always be remembered as a selfless artist and humanitarian.