Obama: GOP is jeopardizing judicial integrity
DARLENE SUPERVILLE | 4/18/2016, 12:18 p.m.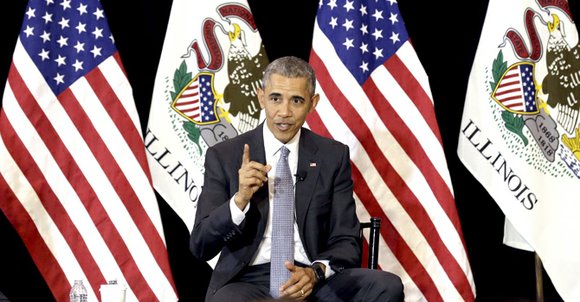 Kirk on April 7 tweeted a photo of a handwritten note Obama sent thanking the senator for meeting with Garland late last month. Kirk tweeted that he met with the judge "because my responsibility to the people of #IL is more important than partisanship."
Obama has accused Republicans of blocking Garland for political reasons.
In the note to Kirk, Obama said: "Thank you for your fair and responsible treatment of Merrick Garland. It upholds the institutional values of the Senate, and helps preserve the bipartisan ideals of an independent judiciary."
In Chicago, Obama answered some questions from students, including one who asked about the diversity Garland, who is White, would add to the court.
"Well, he's from Skokie, [Illinois]," Obama joked. He noted that Garland follows his earlier nominations of Sonia Sotomayor, a Latina, and Elena Kagan, who is Jewish, to the high court. "When I look at Merrick Garland, yeah, he's a White guy but he's a really outstanding jurist. Sorry."
The question reflected some of the disappointment among liberal groups who had urged Obama to use the vacancy to further expand diversity on the court. Obama had been urged to name the first African American female justice, while others hoped to see the first Asian American. Some have worried that Obama's choice of a White man from the Midwest would deflate enthusiasm among the liberal base heading into November's elections.
From Chicago, Obama is heading to California to raise money for Democrats at events through late Friday. He was joined on the trip by his daughter, Malia, who is expected to start college in the fall.
Mary Clare Jalonick and Kathleen Hennessey/Associated Press contributed to this report.