Monday Night Politics features candidates for Dallas ISD Board of Trustees
DIANE XAVIER | 4/22/2016, 1:34 p.m.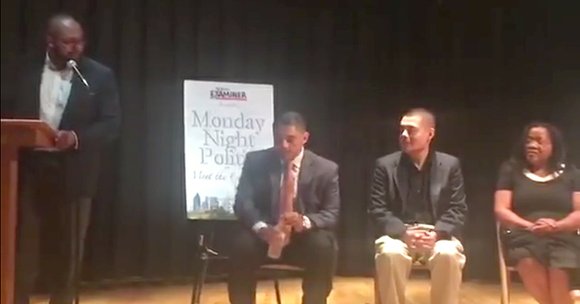 The Dallas Examiner
Monday Night Politics: Meet the Candidates featured candidates for Dallas ISD Board of Trustees Districts 4, 5 and 7 at the African American Museum on April 11.
The evening started with candidates for District 4, which included Jaime Resendez, Omar Jimenez and Camile D. White.
Resendez spoke first.
"School board for District 4 includes most of Pleasant Grove, Balch Springs and Seagoville," he said. "I am a first-generation Mexican-American who grew up in Pleasant Grove and graduated from Skyline High School. Before graduating high school, I had to come up with a plan to go to college. I didn't grow up around people with a degree but the ones I would see on TV were never broke. So the plan I had was to join the military and was 17 years old when I joined and served eight years. It totally changed my life. After that, I started going to Eastfield Community College and then transferred to the University of North Texas School of Law. Now, I am an attorney at West and Associates. The reason why I am running is because I take the education of our students seriously since I am a product of DISD. I have a background similar to the students of DISD. My parents came to this country with an elementary-level education and I speak English as a second language. I have a background that people can look up to, respect and inspire."
Jimenez said he is also a product of District 4.
"I attended Kleberg Elementary and Kleberg Rylie here me and my family lived for 21 years," he said. "I graduated from Booker T. Washington High School. I am a first-generation university student. Some people look at me and say I am young because I am 23 years old. But I have been an involved citizen since high school. In 2009, the school board and superintendent wanted to cut magnet schools and I was there at my first school board meeting and I spoke against those cuts. Since then, I have been to many school board meetings and town hall meetings. I see what we are winning at DISD and what we are not winning as well. I want DISD to win and that is why I am running."
White said she is running because she has lived in the community for quite some time.
"My kids have attended DISD schools and I volunteer in my community and work with Trinity Council PTA," she said. "I also work with schools in Oak Cliff and other cities as well. I have a master's degree from the University of Texas at Arlington and have a bachelor's degree from DeVry Institute of Technology in Computer Information Systems. My master's is in political science. I have been fighting for change in my community for a long time. My community is one that gets overlooked a lot. My aim and goals are that I am pro schools and public schools and am in support of our teachers. I also want to support and empower our parents in not just my community but in all of the district as well."