Chef Tre Wilcox stirs up success with fresh concept
KENYATTA GIDDINGS | 4/22/2016, 1:36 p.m. | Updated on 4/25/2016, 7:48 p.m.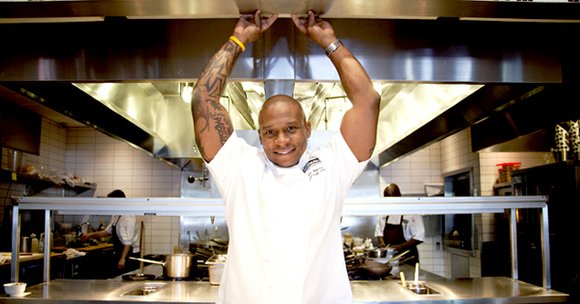 The Dallas Examiner
You can't miss Chef Tre Wilcox. Whether it's his ready-for-NFL build or unforgettable laugh, the James Beard-nominated chef hardly goes unnoticed. Standing out is by design when it comes to TRE Cooking Concepts, the demo kitchen and dining space Wilcox recently opened to showcase his brand of "chef-tainment." The chef-owned establishment is not a restaurant – patrons can't simply walk through the door and enjoy a meal – but is instead an event space that celebrates food as the centerpiece.
"You can have whatever kind of party, luncheon or corporate event you want," Wilcox said. "I'm going to teach you techniques, recipes and execution – his signature TRE method. I'm going to really teach you how to cook and give you what you need for when you return home."
Wilcox didn't learn his skills in a classical environment. After classes at Duncanville High School he made his way over to then-named Boston Chicken – currently known as Boston Market – for shifts as an hourly wage cook. After landing at various fast food restaurants, Red Lobster and Steak and Ale, he snagged his landmark gig at Eatzi's.
"That was the groundbreaker," Wilcox said. "I realized I wanted to be a chef."
Once it was clear that he'd found his path, Wilcox trotted around DFW Metroplex and the globe alike putting in gratis work for a variety of chefs to learn as much as possible.
"Someone said to me, 'the more you know the more you work' and in the culinary industry that's key," Wilcox said.
By the time he reached Chef Kent Rathbun-led Abacus, he'd come a long way from cleaning chicken after algebra, and the culinary world took notice. The James Beard Foundation honored him with a nomination of the Rising Star Award for two consecutive years, and Dallas Morning News declared him one of the best chefs in the city. Television network Bravo approached him to be a contestant on Top Chef: Miami before he, along with chefs Kent and Kevin Rathbun, defeated Bobby Flay on an episode of Iron Chef America. However, the eventual promotion to chef de cuisine didn't come without its casualties, causing a shift in Wilcox's priorities.
"I won't completely blame the restaurant industry for my divorce, but I was a totally different person by the end of my marriage," Wilcox recalled. "The culinary world keeps you away, but I knew I didn't want it to come between me and my daughter. You can always go back and be an executive chef, but you can only be a dad once."
With an ex-wife in Miami and a daughter on the brink of her teenage years, Wilcox struck out to forge his own path, catering for a variety of clientele including vegan lifestyle advocate Russell Simmons.
After catering for several private and corporate events, Wilcox found that he was surrendering a significant percentage of profit to facility rentals and that restaurant-based events charge clients 100 percent of the cost while only providing 20 percent of the menu. Soon thereafter, TRE Cooking Concepts was born.