Celebrating excellence in education
JESSICA NGBOR | 4/25/2016, 7:05 a.m.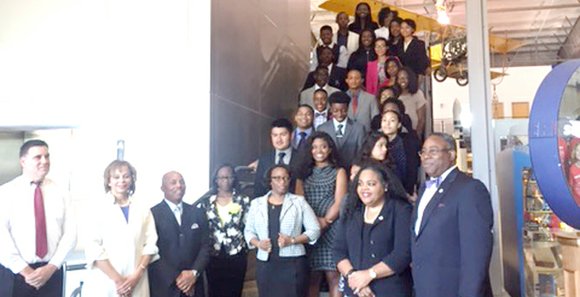 The Dallas Examiner
For the past 19 years, the partnership between the Dallas Black Chamber of Commerce and the Dallas Independent School District has allowed many deserving high school seniors to receive scholarships to the colleges of their choice during the annual Excellence in Education Luncheon.
The students must fill out an application, meet a GPA requirement, and send an official transcript and their acceptance letter in order to qualify for this scholarship.
"I really want to learn how to not depend so much on my parents, and this helps me with my tuition. I won't have to take as much from them because I know they are doing their hardest to help me. To get me to this point, it took a lot. So I just want to back away from them," said Tamar McDonald, senior at Rosie Sorrells School of Education and Social Services at Townview Magnet Center.
McDonald plans on attending Sam Houston State University to major in forensic chemistry.
This year's luncheon took place on April 7 at the Frontiers of Flight Museum, with Terrence Fay as the emcee. Wilton Munnings, president of the chamber, opened the event by congratulating the students and acknowledged the board of directors and sponsors.
"Our goal here is to encourage you to go to the next level, to be innovative, to be creative and to make sure that you fulfill your dreams and our dreams of making this a better society here in Dallas. That's why we are here today," he said.
Darcel Webb, manager of Business Diversity of the Dallas Country Community College District; Michael Zander from Oncor; and Anthony Brown with Texas Instruments, spoke on behalf of their organizations, which are all sponsors.
"These are exciting times right? You're beginning a new career path, you have done the course work and you're heading onto having your next process in place. So we would like to thank you so much and congratulate you from moving from this portion of your life onto another portion of your life," Webb said.
Texas Instruments awarded all STEM scholarship recipients a graphic calculator and the other students with a business calculator. Oncor provided students with a gift bag with materials they can use in their next stage in school.
This year over 20 students around the Metroplex were presented with scholarships to attend different universities around the country, such as University of Arlington, Stephen F. Austin, Texas A&M, University of Arkansas and Georgetown University. Each student is heavily involved in the community and after-school clubs as well as keeping up with their grades.
"Education has kinda always been my way out. I think by going to college I will not only network but I will find ways to change society and change education, especially with kids and the system. That's where I wanna make an impact," explained Jade Tucker, a senior at Townview Magnet Center.