Monday Night Politics concludes with candidates for Dallas ISD School Board District 2
DIANE XAVIER | 4/29/2016, 6:09 p.m.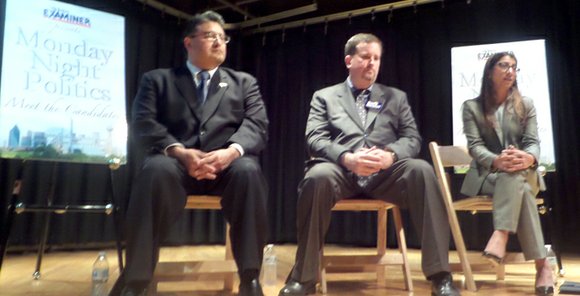 The Dallas Examiner
Monday Night Politics: Meet the Candidates concluded on April 18 for the May 7 Joint Elections with candidates running for Dallas ISD School Board District 2 at the African American Museum in Fair Park.
The race for District 2 is considered a special election because the seat was vacated by former trustee Mike Morath, who left in January to become the Texas Education Commissioner. Morath's unexpired term ends in May 2017.
The district includes parts of North Dallas and East Dallas.
The candidates include Dustin Marshall, Mita Havlick, Carlos A. Marroquin and Suzanne N. Smith, who was not present at the forum.
Marroquin began the forum and said he came here from Mexico in 1982.
"I came here with my mother who divorced and decided to come to the U.S.," he said. "Without knowing a word of English, I started going to school at T.J. Rusk public school and sadly my ESL teacher fell asleep. We didn't learn too much except for the Spanglish we learn here in Texas. My mother was determined that I would go to college so she put me in a Catholic school. She had to work two jobs to pay for tuition and with the nuns, I learned English. I then went to W.T. White High School and I ended up going to college at the University of Michigan. After graduating from Michigan, I came back to Dallas to work at the family business. After that, I worked with the labor force in making sure workers got paid. My thing is I want to get involved now because if I don't, then when will I get involved. I come from a family of teachers. All the problems we hear now, we heard them back in the 1980s and we still see them today and I want to do something about that."
Marshall spoke next and said he grew up near Lake Highlands.
"I grew up in a single family household of four," Marshall said. "I went on to the University of Pennsylvania college and then went on to Kellogg and Northwestern to get a MBA. Throughout that time, I have been working in the public education sector and also moved to Boston and started working at an organization called the Stepping Zone where I got to tutor minority children and have been involved ever since. I feel like wherever I have gone, I have helped children find a pathway to success. The outcomes from DISD are not where we need them to be. We only have 55 percent of kindergartners showing up on day one ready to learn and we only have a third of our third graders reading on grade level and less than 15 percent of our graduating seniors are graduating college-ready. I have tried to play a role in Dallas over the past five years to alleviate some of those issues and have been spending 20 hours a week in a volunteer capacity for the past five years in educational nonprofits. I have been a tutor in our schools and worked with the Woodrow High School community foundation to provide scholarships to graduating seniors. I was the incoming chair of Reading Partners of North Texas and have served on the Board of Dallas After Schools. I feel like my business acumen and my experience in the nonprofit world and my experience with DISD makes me deeply qualified to be your next trustee."