Full-day pre-K set to launch
But underserved communities may be left out, increase education gap
DENISHA MCKNIGHT | 8/5/2016, 7:13 p.m.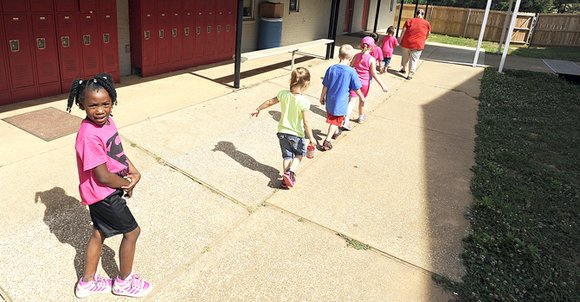 The Dallas Examiner
The Dallas Independent School District recently approved a full-day, tuition-based pre-kindergarten pilot program for select elementary schools for the 2016-2017 school year. Registration is only open to students who will be 4 years old by Sept. 1.
"The pilot program is launching and we are excited," said Derek Little, assistant superintendent of Early Learning.
The program will include five campuses: Nathan Adams, Arthur Kramer, Robert E. Lee, Ben Milam and Walnut Hill elementary schools. The schools are all located north of Downtown Dallas, between and along U.S. Highway 75 and the Dallas North Tollway.
The initial program was designed as a high-quality children's course where students will develop stronger vocabulary, oral language, thinking, social and emotional skills.
Currently, a half-day pre-K program has been open only to children who meet the requirements – military families, free or reduced lunch participants, ESL students, children in foster care or those who are homeless.
The full-day pre-K pilot program will serve children in families who do not meet the requirements to participate in the current half-day pre-K, according to Little, who explained that each location was chosen based on seat availability and community demographic data showing the highest total population of families who don't meet eligibility requirements.
About 10,000 children are currently enrolled in elementary school this year, said Joyce Foreman, vice president of the Dallas ISD Board of Trustees. DISD is pushing this new pre-K program to help increase the low enrollment rate.
The district also hopes to increase opportunities for ineligible families and increase students' kindergarten readiness.
"We are looking to see how much interest and demand we can get from [these] families to see if this is something we should continue to do," Little said.
If the pilot program receives high demand, the next step is for the board to implement the full-day program in all Dallas ISD schools.
The tuition is set at $700 per month. Dallas ISD offers no payment plan or sliding scale options for participating families, so the full tuition must be paid each month, Little explained.
"The price is compared closely to what, on average, child care programs charge, and it's cheaper than what all private schools are charging," he said. "I completely understand that the $700 [payment] may be a lot for some families, but it's in line with what they have to pay if they would've chosen something else as well."
With many children attending day care through Child Care Management Services – which offers financial assistance for child care – the full-day pre-K program has raised questions regarding whether children in the African American community will be able to participate in a program designed to serve middle class areas.
Taylor Toynes, Sarah Zumwalt Middle School teacher, believes the program should be tested in all Dallas ISD school areas before the school board makes a decision to continue the course for all of the district's elementary schools in the future.
"For them to get the accurate responses, they need to do sample groups all over the city not just in one area," he said. "Just because something works in one neighborhood doesn't mean it is going to work everywhere."