Balance & Equanimity: Lumbie Mlambo living on a balance beam
DENISHA MCKNIGHT | 8/16/2016, 9:01 a.m.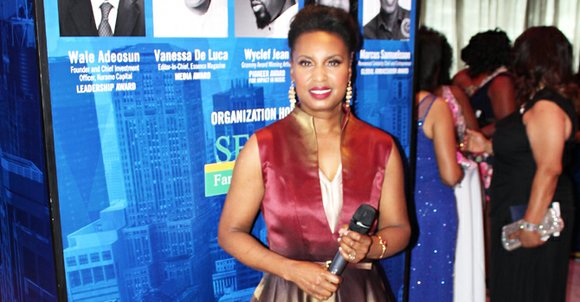 The Dallas Examiner
As Lumbie Mlambo, publisher of Equanimity magazine, prepared for the 2015 premiere Equanimity Awards Benefit Gala, she was overwhelmed with joy – yet she had a shadow of sadness hovering over her.
Most people did not realize that earlier that morning, she buried her sister, who died after battling cancer. Despite the funeral, Mlambo pressed on and attended her gala that evening.
When she arrived, the hotel was packed and had a long line of people eager to get into the event, which was created to honor individuals for their charitable gestures in the community. The venue could only hold 120 people, but 165 people came out to support the occasion.
Still mourning the lost of her sister, she managed to put on a smile and enjoy her first sold out gala.
"She's never let any setbacks completely stop her," said Ronda Bowen, Equanimity magazine editor and fundraising director for JB Dondolo Inc. "She's never lost that self-driven determination."
The wife and mother of two grew up in Zimbabwe, Africa, to a schoolteacher mother and orphaned father, along with 10 older siblings.
"It was a memorable experience that I will never forget," she said.
Mlambo's father, a farmer and humanitarian in their community, was a huge influence in her life. He refurbished Zimbabwean hospitals, provided new bedding for patients and pushed for a new electrical system to be installed as well.
In the 1990s, she took the lessons that she learned from her parents to the United States to pursue a career in computer science and information technology.
She graduated from Texas Woman's University summa cum laude with a bachelor's degree in computer science and mathematics.
"I went to college to impress my parents, initially, because they always pushed for me to get an education, but [eventually], I started doing it for myself and computer science became my passion," Mlambo said.
After college, Mlambo started a career in software development and became a business analyst and project manager in IT technology. Her computer science career proved to be promising after a 10-year stint as a software engineer for JPMorgan Chase and Co.
However, in 2001, Mlambo reached a turning point in her life. She suffered a stroke that left her partially paralyzed during a visit with her extremely ill father in Zimbabwe.
"I was unable to talk, walk or do anything," she said. "From that, I appreciated my family, friends and the people who helped me because they made me realize that it takes a village to get through anything in life sometimes."
Mlambo said the African hospital she was in wasn't equipped to help her with her recovery, so she was sent back to America to fully recuperate. She said the experience was an enlightening moment in her life and made her see things differently.
"I learned life is about balance," she said. "Without balance, you are nothing."
As a direct result, in 2009, she launched Equanimity magazine, which took its title from the words for mental or emotional stability or composure, and covered stories about the trials and tribulations of everyday people.