Balance & Equanimity: Lumbie Mlambo living on a balance beam
DENISHA MCKNIGHT | 8/16/2016, 9:01 a.m.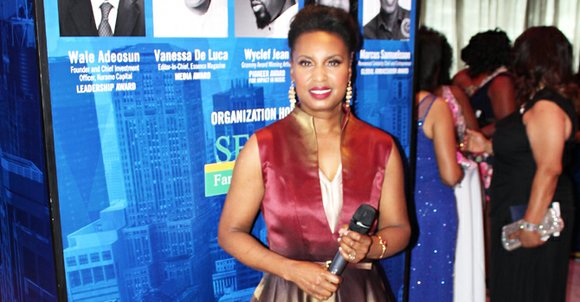 "The first time we launched the magazine, we sold out in Barnes and Nobles bookstores," Mlambo said. "I didn't make a penny off [the premiere cover], but it's my proudest moment."
Since the launch of her magazine, Mlambo has had a successful career as a CEO and publisher, earning a place as a member of America's PremierExperts, an organization dedicated to recognizing emerging business leaders, in 2014.
"Any recognition that Lumbie gets is deserved," said Steffanie Rivers, Equanimity columnist. "She is a mentor [and] an example of what you need to be in business these days, a hardworking woman."
The success of her magazine opened doors for Mlambo to become an active humanitarian in the community. In 2013, she launched a nonprofit organization geared toward fighting poverty in low-income areas worldwide called JB Dondolo Inc., named after her father, who passed away due to complications from diabetes.
"It's an awesome thing when people put their heart into what they do, and I see Lumbie doing that all the time with Equanimity and JB Dondolo," Bowen said.
The organization is currently working on providing clean water and new windows and doors to Igusi Hospital in Zimbabwe, a hospital that Mlambo's father was originally working on before he died.
"Water is a human right. Everyone deserves clean water," she said.
Sharing her successes and failures with the world has helped Mlambo cope with the hardships life has thrown at her.
"I found that when I speak from my heart, it helps me deal with my issues day-to-day," she said. "It helps me balance. When you tell your story, it makes someone else's [problems] seem smaller."
Mlambo said her experiences and the people she connected with over the years have made her into the woman she is proud to be today, and she looks forward to the rewards that the future has in store for her.
"In the future, I see clean water in Zimbabwe, a functional hospital, and I see myself saving lives," she said. "That's a good future."
Mlambo now is gearing up for her second annual gala to be held in October, benefiting her foundation. For more information, visit http://www.equanimityawardsbenefitgala.splashthat.com and http://www.jbdondolo.org.