Lead found in water at South Oak Cliff High School
DENISHA MCKNIGHT | 8/22/2016, 10:58 a.m.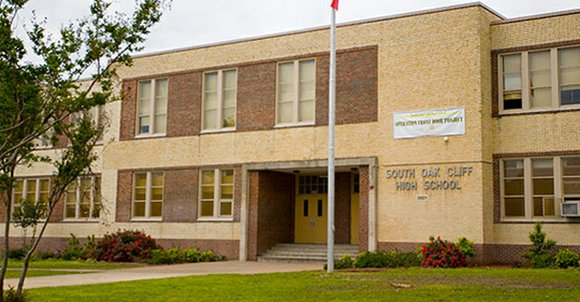 The Dallas Examiner
Dallas Independent School District recently confirmed that water quality test for South Oak Cliff High School showed evidence of low levels of lead and other contaminants.
"Lead is a natural element, so it is always going to be small traces of it in your water or anywhere," stated Andre Riley, Dallas ISD representative. However, he said "environmental specialists have told us that the water can still be used and consumed."
The four samples collected by EFI Global Inc. in March reveal that less than 0.00002 mg/L of lead was found in the pipes at the high school, which is well below the Environmental Protection Agency action for public water systems of 0.015 mg/L at 0.00096 mg/L, according to Dallas ISD water reports.
"It's too many things being told around out there making it seem like the kids at South Oak Cliff high school are drinking water with dangerous amounts of lead in it, and it is not the truth," Riley said. "Having a level of contamination does not mean [it's] contaminated."
The district isn't sure how the lead got into the water, and there are no plans on replacing the pipes or conducting blood tests on students and employees as of right now, Riley explained.
While DISD leaders are sure the water is safe, the public is apprehensive.
"They're telling us that the water is OK to drink, but [EPA] told the people in Flint, Michigan, the same thing when the water was coming out brown in the sink," said Arthur Fleming, president of the NAACP Dallas chapter. "Why would we believe you?"
The NAACP, South Oak Cliff Parents Coalition and Dallas SW Coalition for Better Public Schools requested a water test for the high school in March during a meeting with facilities director Wanda Paul and other Dallas ISD staff members due to concerns regarding the lack of a water contingency plan and the list of other complaints associated with the school such as asbestos, leaking roofs and termites.
"We felt the community had a right to know what's in the water, so they can decide what their standards are. Not EPA standards," Fleming said.
When results came back in April, the high school alumni were notified first, and the group members, parents and students were told about the results four months later.
"It's a lot of sneaky things going on right now," said Rev. Maxie Johnson, president of the South Oak Cliff Parents Coalition. "No one is communicating with us and letting us know what's going on."
Once the results were revealed, residents questioned how long lead has been present in the high school's pipes and expressed fear for their children's health.
"We [the parents] are not feeling safe about the matter," said Johnson. "We are afraid that we have another possible Flint, Michigan on our hands."
Parents and other members of the community also questioned the negative effects that lead exposure can have on students' academic performance and behavior as well as their health.