Youth summit focuses on strength in diversity
MIKE MCGEE | 8/22/2016, 11:39 a.m.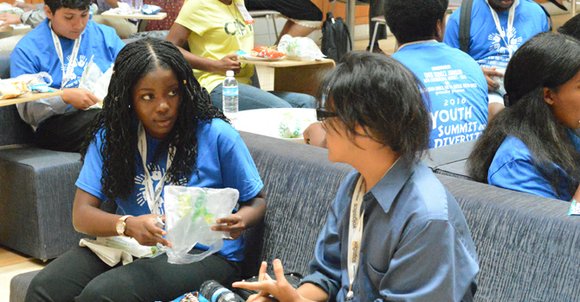 The Dallas Examiner
For the past 13 years, U.S. Congresswoman Eddie Bernice Johnson, Texas-30, has hosted the Youth Summit And Diversity Dialogue for one simple reason.
"I grew up America, Black."
The program, held on the SMU campus Aug. 9, promotes the idea of embracing racial, cultural, religious and other differences in the members of society. Participants for the summit were local students between the ages of 13 and 17.
"What we try to do is to bring students from the North Texas area that have come from here – but many have parents that have come from other countries – to make sure that they get some knowledge of each others backgrounds to emphasize the strength of diversity," Johnson explained as she discussed this year's Strength In Diversity theme.
"We find that more and more we are very diverse in our workforce, in our college communities, but students don't see each other in their neighborhoods that are different," she said.
She added that after the one-day summit ends, program coordinators organize the students to work on a follow-up project together, "and some have kept their little organizations going about them for a number of years."
The project for attendees this year will be a community garden in the Bonton area of downtown.
"We try to have different stimulating speakers each year. They take part in different exercises. This year we had an added component with the diversity in sexuality, which is a part of our society that we have not included before, but we think it's important to make sure that diversity part is inclusive," Johnson remarked. "I know what my experiences have been; I was from Waco, Texas."
Waco was the site of the brutal lynching and burning of Black teenager Jesse Washington – an event dubbed "the Waco horror" – less than 20 years before the congresswoman's birth. Johnson acknowledged that students from places outside of the U.S. might have to face experiences similar to hers until they are accepted as part of the larger populace.
Sahare Wazirali, assisting with the event through the Ismaili Community Engaged in Responsible Volunteering organization, commented that her efforts were part of her personal drive to improve the community by fostering the growth of a more diverse, yet unified, country. The recent UT Austin graduate shared her point of view on the summit as a non-White Islamic woman living in the DFW Metroplex.
"A big reason why we are here is we talk a lot a lot about pluralism and the idea of accepting diversity and not tolerating it. That's really one of our main tenants," Wazirali stated. "As a representative Muslim community it's almost an obligation for us to ensure that these conversations on diversity and pluralism are happening. Not only so that we can be represented, but also so that we can learn and help contribute to the discussion at large."
Ontario Brown, 16 and an intern with Volunteer Now, he also expressed he wanted to learn and contribute.