Continuing the fight for justice
DIANE XAVIER
 | 8/23/2016, 10:33 a.m.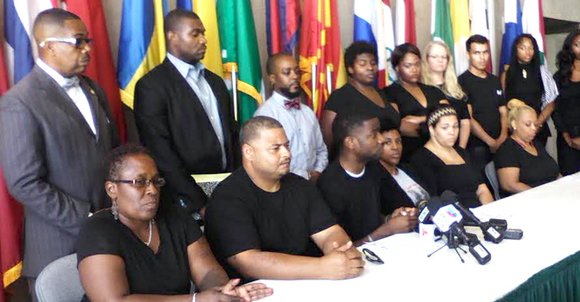 The Dallas Examiner
The fight for justice and to be heard continues as protesters with the Next Generation Action Network rallied in downtown Dallas again Aug. 10, shouting 'No justice, no peace." The rally, which took place in front of Main Street Gardens, was organized to show opposition against police brutality and support for the Black Lives Matter movement.
The rally was organized by Minister Dominique Alexander, president of the Next Generation Action Network, a nonprofit organization whose goal and mission statement is to cultivate young leaders to get involved with eradicating social injustice through social, educational, civil and community reform.
This was the second rally held in two weeks in Downtown Dallas.
On July 29, a silent march was held with about 100 protesters opposing police brutality and making a statement that this was a peaceful protest after five officers in Dallas were killed by a lone gunman named Micah Johnson after a July 7 march.
Dallas Police Chief David Brown had requested that Alexander's group stop holding protests.
Alexander disagreed and decided that it was important to address the Dallas City Council that day.
"We have to continue to address these issues because these issues are not new in the city of Dallas," he said. "These issues have continued to plague us since 1983. In Dallas, police violence has continued to roll over for decades. We cannot allow whether it's community or whether it's police officers to be gunned down in the city any longer, and we are standing up because an officer has not been indicted for over 40 years in fatal shootings, and we have to address these issues."
Alexander went on to explain the purpose of the silent marches.
"The silent march was just to show that we are not anti-police. Those officers that were killed July 7 stood up, they sacrificed their life and we understand their contributions to society, but it's up to the mayor and the City Councils to address solutions all-around," he said. "We see all of the different policies around designing around it, but we need to know exactly what you are willing to do to prevent these actions from happening. The chief can continue to say "Oh we did this," and respond to that, but the city council has to address the policy."
Alexander said his group has been trying to get a meeting with the mayor for over a year but has been unsuccessful.
"We have been ignored by Mayor Mike Rawlings and we want the world to see it," he said. "They have been ignoring me for a year now."
According to attorney Kim Cole, legal counsel for the Next Generation Action Network, the silent march July 29 was peaceful until the police arrived. She said the police had assault rifles on them.
"I believe that the police showing up at a peaceful protest with assault rifles only serves to protect themselves, they are fearful of the community they are supposed to protect," she said. "At the last protest, they showed up with assault rifles. They did not preserve the peace, they actually disturbed the peace. It was a very peaceful protest. As a matter of fact, we were in the middle of a prayer when they all rolled in and jumped out of their cars with assault rifles."