Lessons learned: U.S. Rep. Johnson takes a look back at the the Micah Johnson shooting
MIKE MCGEE | 8/23/2016, 10:27 a.m.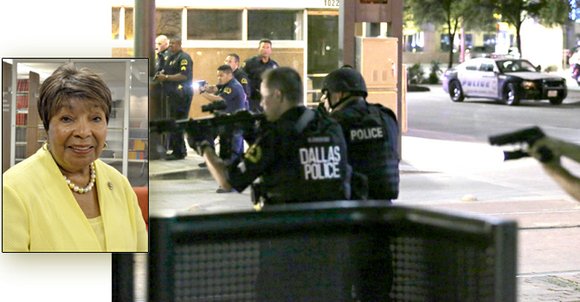 "One of the things that I thought was very interesting is that it was suggested that there be a hotline where people can call in and ask questions about behavior. This young man that was the perpetrator in this situation had all kinds of signs of mental illness. He'd accumulated all these weapons and ammunition; he'd set up a practice-war situation in his yard – and the parents, and no one, ever reported it," she pointed out. "Some intervention probably could have occurred earlier and could have prevented this."
In addition, Johnson mentioned she participated in a community meeting of elected officials and law enforcement leaders after the shooting. Entitled Moving Forward Together: Less Talk, More Action, the July 16 event was created as a steppingstone to "… tangible solutions to foster better community/law enforcement relationships and to bring an end to the proliferation of guns on the streets of America and locally in the Dallas area," according to a statement released by Johnson.
"We have war weapons on the street and we're not in war," she offered about the seeming abundance of mass shooters in the U.S. who employ high-powered weapons such as the semi-automatic rifle used by the former reservist.
"That's another focus. It doesn't mean we don't want people to have their guns but we don't have any need for war weapons in a peaceful society," she stated.
Johnson acknowledged that she is far from being anti-police, a charge often lobbed at those critical of the actions of some law enforcement personnel. She maintained that as an African American elected official her goal was to unify, not divide.
"We want people to recognize that police are peace officers. They're not military, and so I think education and communication are there. We have what I consider an above-average police department here. I've been working with the police department here since the 70s and community policing has eased tensions around the nation when we've been able to sustain it through supporting it financially – because it does take some finances to support community policing; to have people stationed in communities where they get to know who lives there, associate with those families, communicate with those families. It takes more than just desire."
She voiced that police unions have a part to play as well in bridging gaps across communities in the U.S.
"Maybe they can begin to see there's two sides to the story. The complaints that we've had coming from the citizens so much is that they think the unions for police don't think they can improve, or don't feel that anyone else is right; they're always right," she commented. "They want some attention being given to the police boards, the review boards, and also the academies to see what kind of curriculum improvements might be needed."
Ultimately, the representative considered the building of trust between police and citizens, as well as the prevention of random gun violence, to be an ongoing endeavor.
"We don't expect to make it perfect overnight, but we do plan to be a part of the solution."