Remembering the Dean of Black Press columnists, George E. Curry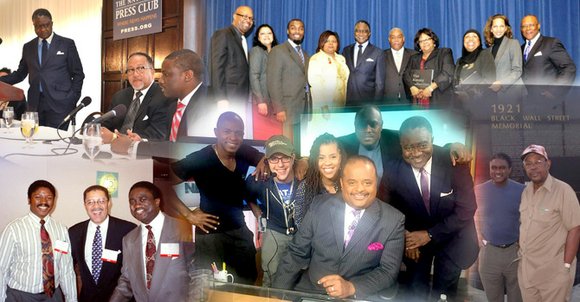 "He was a pacesetter with the pen. He saw things that other people didn't see. And once he saw those things, he embraced them and exposed them in terms of putting information into the hands of people who would normally be left out of the process, meaning the African American community."
– SCLC president Charles Steele
"I am heartbroken to learn that Mr. George Curry has passed. He has been a beacon for so many and a pivotal voice among Black publishers. His strength and pursuit for the truth will carry on in the lives he touched. I had the chance to talk with him recently at the Democratic National Convention. His 5,000 watt smile stays etched in my mind. On behalf of the entire NABJ family, our thoughts and prayers are with his family and loved ones."
– NABJ President Sarah Glover
"My friendship with George spanned 40 years. He was a race man and gumshoe journalist in the tradition of Vernon Jarrett and Mal Goode. For a decade we were panelists on Lead Story, BET's old Sunday morning news talk show. But George's most important contribution to our craft was the courageous work he did as editor of Emerge magazine, a news magazine that had no equal in applauding the successes, and condemning the enemies, of people of African descent."
– NABJ Founder DeWayne Wickham and dean of Morgan's School of Global Journalism and Communication.
"I am saddened by the loss of an outstanding journalist and supportive friend. George E. Curry was a pioneering journalist, a tireless crusader for justice, and a true agent of change. With quality reporting, creativity, and skillful persuasion he influenced countless people, including me, to think beyond their narrow experience and expand their understanding. George may be gone, but he will not be forgotten. My thoughts and prayers are with his loved ones."
– Democratic presidential candidate Hillary Clinton
"George Curry was a good friend and true journalist who understood his responsibility to the African American community and the power of his words to create impactful change. He was a celebrated standard bearer within the profession who believed very deeply in the Black press and its role in documenting the untold stories within our communities. When mainstream publications ignored the major tragedies or achievements encapsulating Black lives in America, we could always count on George to help ensure black news became mainstream news. Long before social media, George's magazine, Emerge, was our collective platform for provoking thoughtful discussion on the many challenges facing our community.
"I recall, in particular, George's editorial campaign in the press to win the release of Kemba Smith, a woman who was sentenced to 24 years in prison under a harsh mandatory minimum sentence for a minor and nonviolent role in her boyfriend's drug-related offense. Under George's leadership, Emerge ran a cover story in 1996 detailing Kemba's unduly harsh treatment in our criminal justice system. Kemba was ultimately pardoned by President Bill Clinton in 2000. Since that time, Kemba has continued to tell her story during a panel on criminal justice that I host every year during the Congressional Black Caucus Foundation's legislative conference. I remember George attending this panel one year and how moved Kemba was to see the man who fought so tirelessly for her release.