Dallas ISD Board votes on controversial new tax proposal
DENISHA MCKNIGHT | 8/29/2016, 9:49 a.m.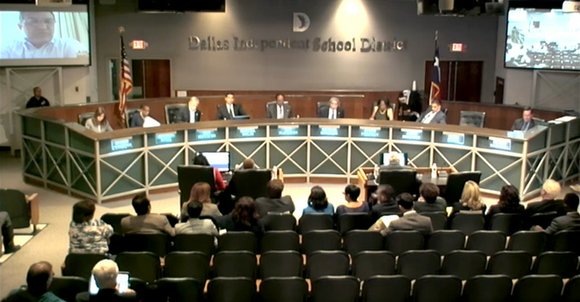 The Dallas Examiner
A controversial new tax hike proposed to the Dallas Independent School District Board of Trustee stirred up debate among members at the monthly board briefing Aug. 11. The briefing discussed a tax ratification election, its benefits and what it woud mean for local residents.
The purpose of the TRE is to increase student enrollment and to lower property value and the district's potential tax recapture. If the TRE passed, Dallas ISD would receive up to $104 million a year, which will go towards new early childhood and early college programs and increase teachers' salaries, according to Dallas ISD Superintendent Michael Hinojosa.
"If we don't do this, we project that we will hit a recapture wall in 2018," he said.
Initially, the bill was designed to give residents the option of voting for one, two or all three of the planned initiatives.
The first action requires a 5 cents tax increase geared towards fully expanding high quality early childhood programs, which equates to $79 a year for the average home value of $157,000.
The second action requires a 4 cents tax increase for strategic teacher and principal compensation, which means homeowners pay an extra $63 a year.
The third action requires a 4 cents tax increase geared toward expansion of early college and career technology programs that will allow for high school students wanting to pursue a teaching career to achieve an associate's degree after their high school graduation. This plan entails that homeowners pay an extra $63 a year.
If voters approved all three plans, it could have led to a potential 13 cents tax increase.
Attendees and board members displayed mixed reviews for the tax plan at the briefing. Some people agreed with the tax hike for the sake of better education for students.
"We do deserve the right to vote on this," said Rev. Gerald Britt, a local resident. "We are willing to pay if student education increases."
Others were against the implementation of the tax hike. Moreover, some board members questioned Hinojosa and Dallas ISD staff members about fairness within the implementation and accountability of the TRE.
"Today finds me again feeling that children's education and the public good comes secondary to the wishes of the privileged and politics of never enough money to be controlled by a few in public education," said District 6 Trustee Joyce Foreman. "Superintendent Hinojosa, we have had conversations about working together and team building. The conversations have been about the board members and the superintendent working together as a team. But your latest disregard for members of the board is, without question, very disappointing to me. I truly wanted to believe that you wanted to be different from your first time as superintendent to the district – where money was the issue and again it's the issue."
She stated that since the 2003 ruling that dismissed the district from the desegregation court order, southern districts have had to fight for equity in education. She stated that programs that were proven to work were dismantled and that schools located south of the Trinity River have had to fight for funding for good teachers, technology, facilities and programs.