Families are Forever: Eighty Dallas County children join forever families
MIKE MCGEE | 12/5/2016, 8:48 a.m.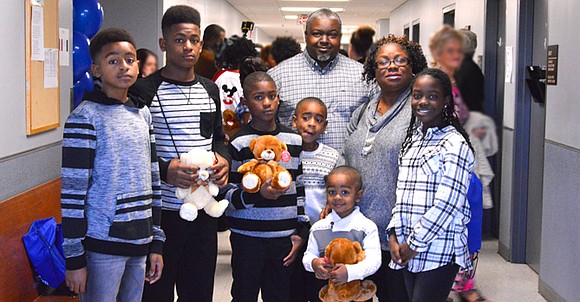 The Dallas Examiner
For the Paige family, Nov. 19 represented the final step in transforming their single-child family into a safe and caring environment for five brothers – under the age of 14 – who could no longer live with their birth parents.
"We're set for final hearing on adoption," Judge Jim Jordan decreed. "Are you ready to proceed?"
The question was posed to Dallas Court Appointed Special Advocates caseworker Bill Maddox during the legal proceedings on National Adoption Day.
The process was similar for another 75 Dallas County children who had been living in foster care or with a relative. They, along with their new and extended family, gathered for the event organized by Dallas CASA at the Henry Wade Juvenile Justice Center. The combined intent of CASA and National Adoption Day was to anchor local children safely in a permanent, nurturing family environment.
"I'm sure for most of the families here it feels like they're getting to that finish line when they're going to be able to expand their families and celebrate that these children, many of whom have experienced trauma and loss in the past, will open a new chapter in their lives and be able to imagine a future that's brighter than the one they could have envisioned before," said Kathleen LaValle, executive director and president of CASA.
In 2015, more than 4,600 abused and neglected children were in protective care of the courts for their own safety, according to statistics provided by CASA.
Those times were over for Tiphanie Paige's newly adopted children, she affirmed.
"Today is finalizing something that started two years ago, and it's to keep the family together, and not separate them, and make sure that they know someone from the family does love and care for them," Paige said.
The mother acknowledged that her boys had not gone through the foster care system – and she took the legal steps to ensure that they did not end up there.
"It started out temporary for three months and three months just turned into life," Paige said, she and her husband Michael both smiling. "At the end of three months it could have been separation for them all but that's not something that I'd wish to see."
Rather than dwell on the past distress that the children experienced, she instead addressed the future that she envisioned for her boys.
"Well, I'm paying it forward, so the foundation and the structure that I'm providing hopefully will help them to be better people, better citizens, and they will grow up to appreciate it, because this was an uncomfortable situation for them," she said.
The mother maintained that the effort the family put into the adoption was worth it but conceded that it was not always a clear or simple path.
"The process was not easy, especially in the beginning when we did not have all of the initial information to try and make the process smoother," she said. "Some of the struggles I had with CPS were not that great but the final fight, the final ending, turned out to be great because they are together. We are a family."