Be The Answer – part II: The AVP 'Fierce' formula for entrepreneurs
DENISHA MCKNIGHT | 12/12/2016, 7:18 a.m.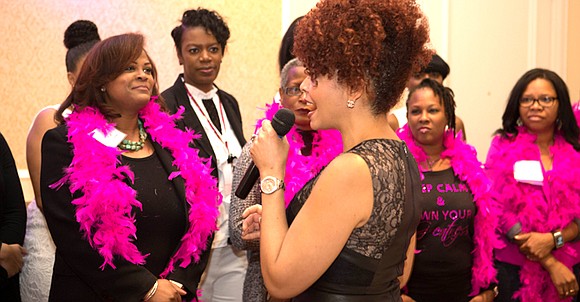 The Dallas Examiner
For numerous aspiring businesswomen, starting a business may be intimidating – especially for those who aren't sure where to start and how to make it profitable.
But what many of them don't realize is that the answers they are looking for are already inside them, Nicole Roberts-Jones, business coach with Find Your Fierce, said at her Be The Answer event Nov. 4.
"Your gift has been in you your whole life," she said. "Your gift is the very answer somebody needs, wants, and will pay for."
During her two-day intensive event, Jones, a self proclaimed "Inner Catalyst," and several other successful industry women gathered at the Intercontinental Dallas Hotel to help over 30 Black women entrepreneurs and 9-to-5'ers find their gifts and use their passion to create financial independence and increase their income.
"Women need tools to move ideas to implementation," Jones said.
Jones introduced her "Fierce" formula to her audience to help them turn their dreams into reality.
"When Beyonce is on stage, she is Sasha Fierce," she said, explaining the meaning behind the formula. "She is standing in the full power of her gift, so my goal for every other woman is that they stand in their own 'fierce.' They live in the highest and best form of the woman they want to be. That's what fierce is."
Her unapologetic method consists of three major key points to help create this ideal businesswoman and help her achieve success in her field: authority, visibility and platform.
Authority over your career
On the first day of the event, participants learned how to gain authority over their gifts and how to increase their visibility footprint.
Authority, in Jones' AVP model, is based on your gift and expertise. She said an aspiring entrepreneur must be clear about their gift before jumping into the business realm.
"Clarity is key," Jones said. "A confused mind won't buy."
Passion, proficiency and problem solving are the three things that define your gift, according to Jones, who suggested that business owners who are unsure of their gift should ask three people they know, whether it's a family member or colleague, about what skills they are best at.
Once your expertise has been defined, it is easier to determine the target audience for your business. Defining your target audience is important to better determine the result your gift provides. Otherwise, your message may be too broad.
"When you speak to everybody, nobody is going to hear you." Jones said.
Future business owners must have a laser focus on who they are targeting specifically and what problem their product or service solves in order to package their gift properly. Once that framework is set in place, entrepreneurs can effectively sell themselves.
To help attendees create the perfect sales pitch, Jones advised that they use her Fierce Accelerating Network model. She said potential clients are often more persuadable when it comes to what your service does than what your service actually is.
"People will pay you more for what you know than what you do," Jones expressed. "You have to ask yourself W.I.I.F.M. – What's In It For Me."