Be The Answer – part II: The AVP 'Fierce' formula for entrepreneurs
DENISHA MCKNIGHT | 12/12/2016, 7:18 a.m.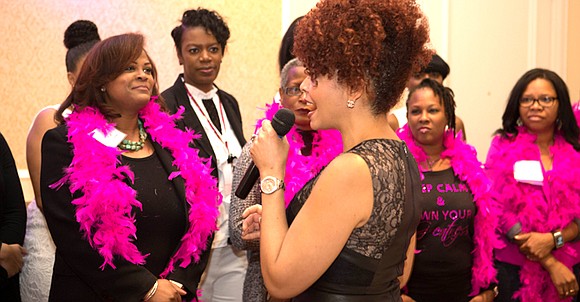 Entrepreneurs should start all their pitches or introductions with who their target audience is and the result their business presents specifically to persuade future clients to say yes to everything they're providing, she said.
Aside from the many models she presented, Jones reiterated the importance of being fearless during this process. The Fierce Lab speaker urged that all women make themselves visible in every way possible whether they are scared or not.
"Any negative emotion you feel is rooted in fear," she said. "You have to do it afraid. God would never put something in your heart that wasn't going to happen."
Also, she strongly advised that aspiring entrepreneurs don't quit their jobs abruptly without having an exit strategy. They should work on their business while working at their regular jobs so they can exit these jobs once their business is secure and generating revenue.
The morning session ended on a positive note with many of the attendees feeling joyous, rejuvenated and more focused on their passions.
Visibility creates awareness
It's essential that people not only become aware of their gift but showcase it worldwide, which is where the "V" in the AVP model comes in.
"People only work with those they know, like and trust," Jones said. "Being seen is one of the most necessary phases of growing your business, so others know you exist."
The "V" in the AVP model represents how ideal clients are able to see your business online and in-person.
"You must allow your gift to be seen online and offline through multiple channels like social media, speaking on stages, traditional media appearances, and blogs," she said.
During the afternoon session, the Fierce business coach had attendees manage their content and social networks using her digital footprint kit. The kit starts off with a digital footprint conversation flow plan that helped the businesswomen understand how to properly sell themselves online as well as organize what topics they should cover on their blog sites and social media profiles monthly or quarterly.
Once they arranged what they should cover based on their products' results and ideal clients' needs, audience members put those topics into action by listing their overall theme and goal for the month and creating a social media calendar. The calendar required that participants coordinate what they will post about on certain social media channels and on what week throughout the month.
Following the social media calendar, Jones had attendees fill out a blog content calendar that specified the title of their blog posts, the day of the week, the date of each post and the step that each blog fulfills in the FIERCE formula.
Visibility can then be moved into profitability once certain methods are properly planned and executed. Jones advised that all business owners follow these steps and commit to posting content on their websites and social media networks regularly at least once a week.

Profit – tools to expand your platform

On day two of the event, Jones brought her intensive coaching sessions to a close with the final element of her fierce AVP blueprint.