Johnson invites constituents to participate in Legislature session
DIANE XAVIER | 12/19/2016, 5:27 p.m.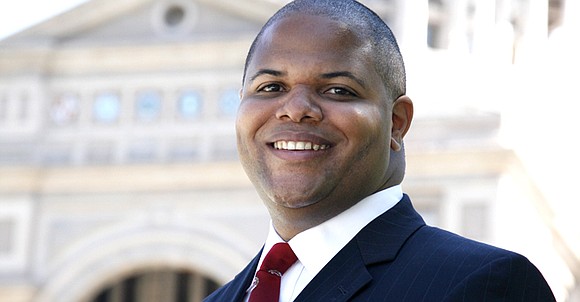 The Dallas Examiner
The lack of affordable housing, rising interest rates on college loans and stray dogs in the community were all expressed concerns of residents in the 100th district, which covers most of the Dallas and parts of Mesquite communities, during a Dec. 6 town hall meeting hosted by Rep. Eric Johnson of the Texas House of Representatives.
With the 85th Texas Legislative session beginning in Austin Jan. 10, Johnson wanted to hear his constituents' thoughts on issues that impact them the most. Held at the Dallas County School on Samuell Boulevard, the meeting was packed with around 200 people.
As Johnson presented his plans, he explained several bills that he has filed that he is passionate about.
"I think education and early childhood education is one of the most important issues the state of Texas faces in terms of its long-term health and vitality," Johnson said. "Also, criminal justice reform is something that I have come to learn about over the course of serving in the legislature. I did not campaign over this issue six years ago. But now, I have come to understand how much massive incarceration has impacted communities of color. A lot of companies are now realizing how incarceration has impacted the economy as well. I am also passionate about economic security."
Johnson said that in the last session, he filed a bill for early childhood education at a 100 percent level for a full day of pre-kindergarten.
"I think that is very important based on research that currently the state of Texas pays for a half-day of pre-K education," he explained. "A half-day of pre-K is not nearly as effective as a full day of pre-K when it comes to the children' academic performance. I lost this bill's battle with the governor, the bill didn't pass, but I am continuing to fight for this bill in this upcoming session. We want the new pre-K to become the kindergarten. Early childhood education is critical for us to be competitive in the future and for children to succeed."
Some other bills Johnson has filed include House Bill 225, which prohibits employment discrimination based on sexual orientation or gender identity.
"All I am saying in this bill is that it is not right for anyone to be fired for who they are," Johnson said.
He also filed House Bill 290 to prohibit employers from asking a candidate's salary history and also prohibit pay discrimination for similar work based on gender.
"Usually, when an employer requests the salary history of a candidate, they usually use the data to low ball or offer a lower salary or pay range for the candidate based on their past employment and salary," Johnson said. "This bill would help alleviate that. The state of Massachusetts has outlawed this practice and so should we."
Some of the public safety bills Johnson has filed include House Bill 291, which would allow the city to opt out of the open carry law bill, and House Bill 235, which would establish a grant program for law enforcement agencies that follow police shooting requirements.