Reunited: Local film sold in national chain
MIKE MCGEE | 12/19/2016, 5:30 p.m.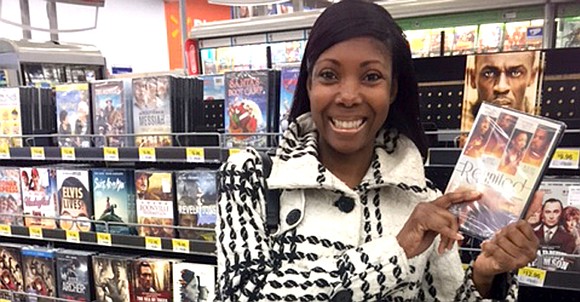 The Dallas Examiner
"Today was really surreal; it has just been a thrill," exclaimed producer-writer-actress Priscilla Adams about the Maverick Entertainment Group's nationwide release of her film, Reunited, into Wal-Mart stores and Family Video outlets Dec. 6.
"I've been to at least two of the Wal-Mart stores today to see the movie on the shelves, to kind of count and see how many they had out. And I talked to one of the employees to kind of get an idea of how they restock, and when they restock – kind of what triggers it – just so I know what to tell my social audience as far as how long the movie will be available and encouraging them to get it," Adams continued.
The filmmaker took a personal approach to the distribution of her "baby" as a way of underpinning her hard-fought efforts to bring her first feature-length movie from concept to the screen.
"I'm a hands-on type of girl. I like to make sure that I have all the facts about things, and that I know how the situation of the process works so that I can share that information and do what I can do to bring about the desired effects," she said.
The romantic drama, completed in 2011, has screened locally at the Studio Movie Grill. Since then, the film has received such recognition as an Award of Merit from Indie Fest, an Award of Excellence from the Accolades and Best New Film from PVIFF Atlanta. Reunited was also officially selected to feature during the Dallas Black Film Festival.
The movie was shot extensively around the city with a local film crew and features the on-screen talent of such Metroplex-based actors as Kenneth Duane, Jett Ray, Jocelyn Michelle Townsie and Donny Boaz, as well as music by R&B recording artist Dondria. The writer-director called the movie "a touching story" as she explained the plot.
"It's a very emotional story, and it's a very interesting drama," Adams affirmed about the romantic angle while hinting at additional touches of comedy.
The Dallas Examiner's Lashonda Cooks explored some of the movie's concepts at the time Reunited was completed.
"In the breakout film, the Shreveport native stars as Angel, a woman who'd rather settle for 'cuddling with a good book,' than dive back into the world of dating," Cooks penned in 2011. "But everything changes when her old high school flame, Broderick, returns to town.
"As the relationship between the two grows heated, Angel decides to reveal to Broderick that she is HIV-positive, leaving him to decide between abandoning her altogether or loving her, HIV and all."
"You wonder, 'OK, what's going on with them?' There's clearly something big that is getting in between this couple and it makes you curious as to what it is," Adams said. "And I'll say, Reunited does deal with the issue that is a very important issue in our world today, in our relationships. It's just that people don't talk about it and it's not something you've seen in other movies."