Group discusses resident/police relations and making it home safely
DENISHA McKNIGHT | 12/26/2016, 1:26 p.m.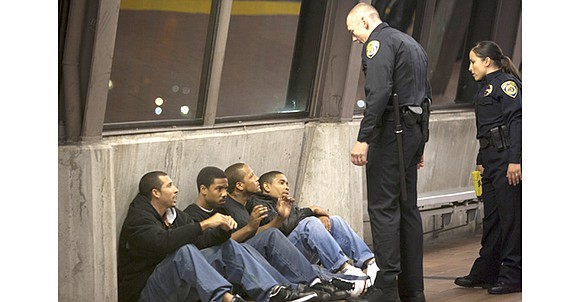 The Dallas Examiner
Police brutality is an ongoing social topic that hits close to home, especially for local residents who have lost loved ones during an altercation with a police officer. To help bring the community together to discuss these issues, Paul Quinn College hosted a "Make It Home Safely" panel discussion to bring awareness and help residents build a better relationship with local law enforcement.
The event's discussion primarily focused on camera footage from the 2009 murder of Oscar Grant, a young Oakland father fatally shot by a Bay Area Rapid Transit police officer, and a short clip from 2013 film Fruitvale Station, which is based on Grant's last day leading up to his death.
After watching the footage, the discussion was open to the five panelists to give their opinions. Dallas police officer Terrence Hopkins said that while the officer in the clip was wrong for how he went about the situation, it's difficult to assess how these officers felt during the arrest.
"I see issues where both sides could've did things differently in de-escalating that situation," he said. "It's very difficult to tell people how they perceive danger."
Dallas police field trainer John Paige said the footage was disturbing and agreed with Hopkins regarding how police officers are trained to emotionally handle dangerous situations.
"We have to teach people how to survive, and that's a hard job," he said.
Aside from the officers' input, the audience was able to hear from everyday residents like them. Donna Jones, a local mother, expressed that the footage scared her and made her think about her son dealing with those situations in the future.
"I wouldn't want to see my child done like that, even if he was acting in an inappropriate manner that he wasn't taught," she said.
Event moderator Cheryl Smith asked Jones about her personal feelings toward police officers.
"I fear police officers," she responded. "I think it's from what my mom instilled in me, and I might have been taught the wrong way. [However,] I also teach my children that way. If you don't do anything wrong, you won't have anything to go to jail for."
After Jones' input, Cameron Hutchins, Paul Quinn student and panelist, told the audience that the Fruitvale Station movie clip made him nervous because the same situation could possibly happen to him.
When he was growing up, Hutchins recounted when law enforcement would come to his school, speak with the students, and know them on a first name basis. Now, he sees a totally different scenario. The college student said that he has experienced wrongful treatment from officers and has been detained for situations that didn't involve him.
Although officers have their part in these hostile circumstances, Hutchins said that everyone has their part in making the situation better.
"It's too many people trying to pull out their phones and capture the situation moment rather than try to help it," he explained. "We all have a joint responsibility to play our role."