With Love, film reveals how secrets can hurt the family
ROBYN H. JIMENEZ | 12/26/2016, 3:03 p.m.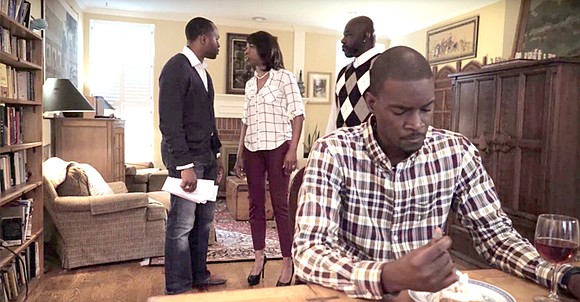 The Dallas Examiner
– Film Review –
With Love is a new short film about a Black family that could realistically be any family in America at any given time. As the movie begins, it's clearly a time of celebration, but there are deep family secrets that overshadow their time of joy. The shadow builds resentment within the family.
Mike Guinn and Staci Davis are brilliant as Brandon and Joan Lovett, who still love each other passionately after well over 20 years of marriage. Together they raised two daughters, Octavia and Cleo. Cleo Lovett-Anez, portrayed by Britney Bluitt, is sarcastic and blunt, but she is dedicated to every member of her family. Bluitt is so expressive you almost know what Cleo is thinking before she says a word. She and her husband, Terrance Anez, have a daughter named Jade, an adorable little girl who is a bit sassy but still well behaved, performed by Brooklyn Roberson. The role of Terrance is performed by Jonathan Lamar, whose role is very limited.
The storyline methodically reveals small portions of the family's secret through each scene.
One night, a stranger knocks on the door and asks for just a moment of Joan's time. Played by Telvin Griffin, the mysterious man reaches out to shake her hand and introduces himself as Regis Beyer and a friend of Tavi's. Joan quickly retracts her hand and dismisses the young man; revealing that all of the secrets are wrapped around Tavi, short for Octavia.
Ready to put his family back together and begin the healing process, Brandon invites the stoic "stranger" to their family celebration – where the stranger turns out to be a family member, and the drama hits the fan. Suddenly, secrets begin pouring out into the open, and Joan, the newly titled woman of the year, realizes that she was too quick to judge and made the biggest mistake of her life.
The film, by North Texas filmmaker by Calvin J. Walker, takes its audience on an emotional roller coaster that ends with the climb and descent of a steep slope. The storyline is timeless, heartbreaking and beautiful. It speaks truth to reality about what can happen when families allow secrets, an AIDS diagnosis and quick judgments to overpower unconditional love and heartwarming compassion.
Walker said he decided to do the film when he was approached by a group of Deltas, but he used the experiences of families that he's seen tackled a similar experience.
"What I wanted to just show was the importance of loving someone who has the diagnosis and not neglecting them," Walker explained. "I wanted to show what a family goes through when they get the diagnosis."
With Love is an emotion packed film recommended for teens and adults. On a scale of 1 to 5, its a definite 5.
The 15-minute film recently screened in Denton and Walker is working on future screenings. Local film enthusiasts may also be able to view the film, along with three additional new short films, during the 2017 Fort Worth Indie Showcase running July 13 through July 16. He also plans to submit the films to the Charlotte Black Film Festival, San Antonio Film Festival and the Las Vegas Black Film Festival.