Sex trafficking and our children
DENISHA McKNIGHT | 12/26/2016, 3:08 p.m.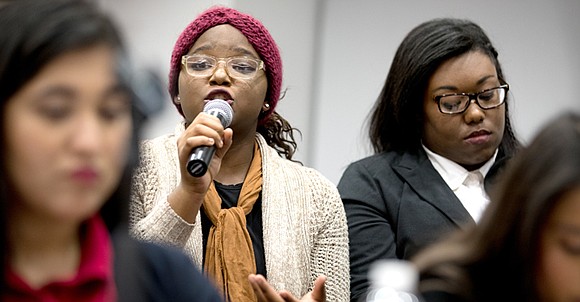 The Dallas Examiner
This year, there were 1,570 calls to the National Human Trafficking Hotline and 499 human trafficking cases reported in Texas, according to the Hotline's website. Out of 499 trafficking cases in the state, 340 are related to sex trafficking and 172 of the victims are classified as minors.
The average age a teen enters the sex trade in the U.S. is between 12 to 14 years old, according to the U.S. Department of Health and Human Services. The U.S. Commission on Civil Rights reported that NHTH receives more calls from Texas than any other state, with 15 percent of those calls being from the Dallas/Fort Worth area.
Parents are unaware of the growing hidden epidemic of child exploitation and sex trafficking in the area. It is becoming more difficult for parents to protect their children due to social media, peer pressure and lack of communication.
Recently, the Nest Foundation launched a three-year pilot program at Skyline High School, Irma Rangel Young Women's Leadership School and the Barack Obama Male Leadership Academy to educate young boys and girls about the dangers of child sex trafficking and how to prevent themselves from being recruited into sex trades.
On Dec. 7, the foundation hosted a student forum at SMU to bring these students and local policymakers together to discuss solutions for ending sexual violence and exploitation of children.
"We have to realize that this is happening in our own backyards," said Judge Amber Givens-Davis, one of the event's panelists. "This isn't some remote situation we just see on TV. This is happening in real life."
The panel discussion, moderated by former state Sen. Wendy Davis, covered many topics associated with trafficking, such as how to avoid being exploited and the roles social networks and television play in exploitation.
Camille Kraeplin, SMU journalism professor, said different forms of media such as video games, movies and commercials greatly affect young girls' self-esteem issues due to how female body parts are often perceived and used as selling points for products.
"New media is highly sexualized," she said. "You have children movies that show female characters with large breasts and small waists as the perfect bodies, and then you have phallic images in commercials where they may have a long soda bottle resting between a girl's legs."
Bryan Flores, a BOMLA student, added to Kraeplin's point, stating that sexual imagery in movies, television and advertisements affect how men and women respond to body issues.
"It not only teaches men to objectify women, it teaches women to objectify themselves," he said.
Skyline senior Kierra Jones explained how young girls process the media's perception of the "perfect woman."
"We were all told to be happy with what you are and with what you have, but it's hard to be happy with what you have when you see a lot of objectified images in commercials and their opinions of us at a very young age about what we should look like and how we should be in the near future," she said.