Black cowboy blazed new Texas trails
CINDY HORSWELL | 2/12/2016, 4:22 p.m.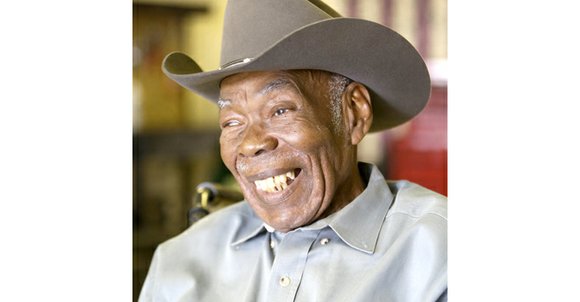 Houston Chronicle
HOUSTON (AP) – Fifty years ago, African American cowboy Paul Cleveland rode a paint horse named Stardust into the Astrodome – and the record books.
Considered a trailblazer, Cleveland was part of the Houston Livestock Show and Rodeo's 1966 debut in what was billed as the world's first domed stadium.
He won first place in the paint horse registered calf-roping event that year. The horse, which he'd trained to help him rope a calf without any direction other than being commanded to go, was recognized the following year as the best judged roping horse of its breed.
Cleveland's success, which came at the height of the Civil Rights Movement, helped lead to his 2008 induction into the National Multicultural Western Heritage Museum's Hall of Fame.
Now 80 and a survivor of three strokes, Cleveland travels by wheelchair instead of by horse. It's a tame ride for a seasoned cowboy. But the health setbacks haven't diminished Cleveland's passion for horses. Though he can no longer ride, he keeps two horses – a pinto and a sorrel – that he continues to train on leased ranchland near his Spring home.
Cleveland also spends two days a week sharing his rodeo stories with young people at Mr. C's, an old-time barbershop off Farm Road 1960 where an entire wall is covered with photos of teens whom he and the shop's owner, Charles Jones, have mentored. They come there to learn not only about horses, but life, including the value of hard work – from sweeping up hair at the shop to shoveling manure at the ranch.
"One of my arms is partially paralyzed and my hands don't work that good no more," Cleveland told the Houston Chronicle as he rubbed one twisted hand. He also has torn cartilage in one knee and a discolored white eye, which lost sight when a branch struck him while he chopped down a tree.
"But I can't let go of my horses," Cleveland said. "I got that country in me. A person is going to follow what he knows."
Cleveland's father was a sharecropper and ranch foreman in Sealy, about 50 miles west of downtown Houston. He had Cleveland riding a horse by age 6.
The 10th of 11 children, Cleveland grew up without indoor plumbing or electricity. He and his family traveled from farm to farm, picking cotton when they weren't using horses to herd cattle or plow their own fields to plant crops.
"I could pick 120 pounds of cotton a day when I was 14. It wasn't hard if you knew how to avoid pricking your fingers," he said.
Soft-spoken, he was a God-fearing lad, but at times he feared his father's discipline more.
"When I was 16, I was late coming home one night. My father had rules. I knew he'd be waiting for me in the dark to give me a whipping." So he never went back. With help from an older brother, he rented a room and landed a job loading watermelons on a truck.