Teen's death reveals police code of silence
DON BABWIN | 2/15/2016, 3:03 a.m.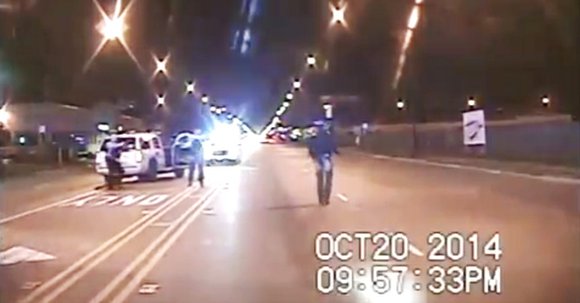 CHICAGO – For more than a year after an officer shot and killed a Black teen named Laquan McDonald, the Chicago Police Department had video footage that raised serious doubts about whether other officers at the scene tried in their reports to cover up what prosecutors now contend was murder.
Not until 15 months later was one of those officers and a detective who concluded the shooting was justified put on desk duty. At least eight other officers failed to recount the same scene that unfolded on the video. All of them remain on the street, according to the department.
The lack of swift action illustrates the difficulty of confronting the "code of silence" that has long been associated with police in Chicago and elsewhere. The obstacles include disciplinary practices that prevent the police chief himself from firing problem officers and a labor contract that prevents officers from being held accountable if a video surfaces that contradicts their testimony.
"If they are not going to analyze officers' reports and compare them to objective evidence like the video, why would the officers ever stop lying?" asked Craig Futterman, a University of Chicago law professor who helped force the city to release the video.
Of the eight officers, six said they did not see who fired, and three depicted McDonald as more threatening than he appeared. One claimed the teen tried to get up with a knife still in his hand. The footage clearly showed him falling down and lying motionless on the pavement.
Van Dyke, who emptied his entire 16-round magazine into McDonald, is now awaiting trial on first-degree murder charges. He has been suspended without pay while the department tries to fire him.
City officials say they are cracking down on traditions associated with the code and even questioning applicants for police superintendent about how they would stop officers from lying to protect colleagues.
Chicago isn't the only major city where officers sworn to tell the truth are suspected of covering for each other. In Los Angeles, three sheriff's deputies were convicted last year of beating a handcuffed jail visitor and then trying to cover it up. In that case, a plea bargain with two former deputies helped prosecutors expose what they said was a code of silence.
The head of Chicago's police union dismisses talk of a code.
"It's not 1954 anymore," Dean Angelo said. "With cameras everywhere, in squad cars, on everyone's cellphone … officers aren't going to make a conscious effort to engage in conduct that puts their own livelihoods at risk."
But the scrutiny that followed McDonald's death reveals a system that makes it difficult to fire problem officers and reduces their punishment or delays it for months or years after their reports are exposed as lies.
The code of silence also figured into another video: footage of off-duty officer Anthony Abbate pummeling a bartender. Officers who responded to the 911 call did not include in their reports the bartender's contention that she was attacked by an officer named Tony, according to testimony in federal court. A jury in 2012 awarded her $850,000 and concluded there was a code of silence.