Monday Night Politics: Candidates for tax assessor collector, constable Precinct 1
DIANE XAVIER | 2/20/2016, 6:13 a.m.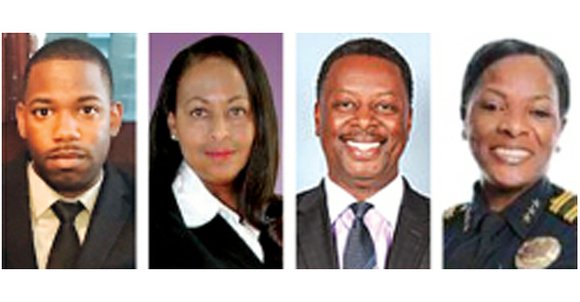 The Dallas Examiner
Monday Night Politics: Meet the Candidates headed into its second forum as candidates for Dallas County constable in Precinct 1 and Dallas County tax assessor collector took the stage on Feb. 8 at the African American Museum.
Moderated by Matt Houston, the night started out with the candidates for constable, Mae Jackson, Curtis E. Traylor, Hector Wilson and Tracey Gulley, discussing their qualifications.
The race is open since the seat was held by Cleo Steele who passed away last year. Currently, Interim Constable John Garrett holds this seat but has decided not to run again.
Gulley has worked in the Precinct 1 constable's office for over 18 years and currently serves as the chief deputy.
"I started there in 1997 as a reserve deputy and worked my way up through ranking," Gulley said. "I was quickly promoted to the sergeant in warrants, lieutenant and currently serving as chief deputy. I definitely feel as though I am the most qualified candidate for this position not because I have been there the longest but because of my experience. We have the largest precinct in Dallas County and so I have some huge shoes to fill. Since this is an open seat, I don't feel like you should just throw your name into the hat or you just come up and run for this. It calls for someone to be experienced in this position, not because you have law enforcement experience but I have been there and run the day to day operations for the past 18 years and managing the $2.5 million dollar budget and so I know what it takes to be a constable."
Traylor started his career at 18 years old working in Corrections with the Texas Department of Criminal Justice at a maximum security prison. From there he went on to work as a deputy jailer in the Sheriff's Department and currently works as a juvenile corrections officer.
"I decided to throw my hat in the ring because of the way our constable's office has been run for the past 15 years," Traylor said. "And that is poorly. And that is under the current administration that is in office now. We have been embarrassed time and time again by the people that are there in office. It is about time that we bring some fresh air and perspective to our constable's office."
Traylor said his goals as constable are to reach out to the community and to the youth.
"Working as a juvenile corrections officer, I understand how important it is to get to our youth before they end up on the wrong track and I have to see that at an institutionalized facility and then I am coaching them there to get back into society to become productive members of society. Another reason I decided to run is because when I read the papers, all you see were officer indictments from top commandment. The constable being indicted, the chief deputy being indicted, a lieutenant being charged on organized crime. That's not what we represent in the community. We represent integrity. African Americans can do better than what we have been doing at that constable's office. Thirdly, we have to bring back professionalism back to our constable's office."