SEPIA: A Legacy in Photography
Photo exhibit offers lens on African American history
MIKE McGEE | 2/22/2016, 7:49 p.m.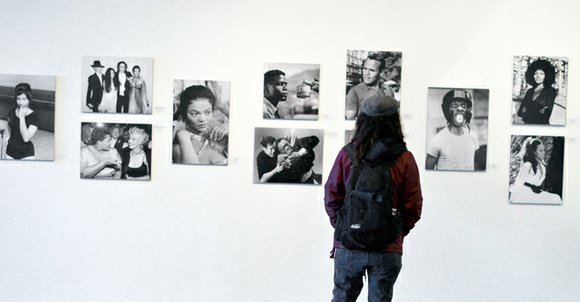 The Dallas Examiner
"I encountered in the museum's archives the Sepia photography archive and that immediately inspired me to want to bring some of these images … to the public in some way," said John Spriggins, Richland Community College gallery director and curator of Sepia: A Legacy in Photography.
He considered the school's current exhibition, the historical magazine that covered Black issues, and his role as former interim curator for the African American Museum in Fair Park.
"This is an important part of American history that I think individuals, organizations, should have access to."
The array of the publication's images – 50 black and white photos featuring news images and global figures like Malcolm X, Richard Pryor and Aretha Franklin – fill the walls of the Brazos Gallery inside Crockett Hall on the Richland campus. It began Feb. 1 and will run until Feb. 29 in honor of Black History Month.
The exhibition is a direct collaboration between the college and the museum, according to Spriggins.
"It's been about two and a half years worth of work," he said on the effort of culling through the 10,000 photos in the AAM archive to getting the final images onto the gallery walls.
"One of the things that Richland prides itself on is reaching out and collaborating with the community a number of different ways," the curator continued. "Here, I saw an opportunity to have the resources that Richland provided and then the archive that the museum had and bring that to Richland for Black History Month."
Spriggins also credited a fundraising effort and coordination between different departments on campus for the opportunity to get the photos into public view.
Sepia began publishing in Fort Worth in 1947 under the leadership of Horace J. Blackwell as Negro Achievements and highlighted articles on Black success and reader-submitted material, according to the Richland website. In 1951, two years after Blackwell's death, George Levithan successfully guided Sepia to the point that the local publication was regularly competing with Ebony magazine.
Sepia's final edition was printed in 1983.
With such a journalistic heritage, the Sepia exhibit is significant for two reasons, the curator offered.
"It's a piece of American history, not just African American history, even though in the exhibition African Americans are featured," he explained as he noted the publication's mission to inform readers of current and history-making events. "Obviously, the most important topics of the day – things like wars, political and religious, activity around the world – and then just the day-to-day life of individuals."
The photos help capture the sense of the times, he stated.
Creativity is also an element to consider about the show.
"The other thing is just the artist quality of the photography," Spriggins related. "There are some fantastic images of just all kinds of people from all walks of life. All kinds of stories. All kinds of topics. But just the artistic quality, the vision of those photographers who were going out on assignment. They just brought back some fantastic images that we definitely want to share with the Dallas community, across the state of Texas, and the world."