Monday Night Politics: Meet the Candidates features candidates for U.S. House of Representatives
DIANE XAVIER | 2/29/2016, 1:08 p.m.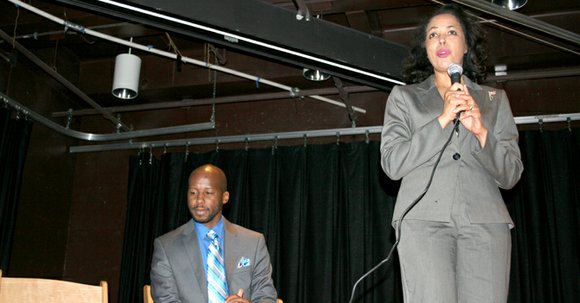 The Dallas Examiner
Monday Night Politics: Meet the Candidates continued on Feb. 15 at the African American Museum in Fair Park with candidates seeking office for the U.S. House of Representatives District 30 chair with incumbent Eddie Bernice Johnson, Barbara Mallory Caraway and Brandon J. Vance. Johnson was not present at the forum. Candidates for the office of U.S. House of Representatives District 33 squared off during the forum, which included incumbent Marc Veasey and opponent Carlos Quintanilla.
The event was moderated by Matt Houston and began with District 30.
Caraway began the forum introducing herself and letting people know that this wasn't her first time seeking this particular seat.
"If people ask why I am running, my answer is that because nothing in District 30 has changed," she said. "Even within the last two years they have gotten worse. We in congressional District 30 have one of the highest poverty levels not only in this area, but in the country. We continually see our graduation rates decline, as well as our communities. The incumbent has represented many of these areas for not only the 24 years in Congress but also in the House and the Senate in the Texas Legislatures."
She told the audience that Johnson doesn't know her district well enough.
"We have an incumbent that doesn't even know where her district is," she said. "We had a disaster that has happened, a tornado in Glenn Heights. Johnson showed up two weeks late after the tornado because she didn't know where the district was. She has lost because of her support of the Trans-Pacific partnership track – the support of many major labor. What she has enjoyed for the tenure of her time in Congress and also when she was in Austin, we need someone who is going to be available, someone who is involved, engaged in what happens in our district and really to bring our issues to a national stage. We need somebody who is going to be an advocate in order to speak out for those people who can't speak for themselves. We need to make sure that we have someone who is going to make sure your voice is heard in Washington, D.C."
Vance shared his vision and explained why he was in the race.
"I agree with what Mrs. Caraway said," he said. "Rep. Johnson has done a great job over the years of representing the 30th Congressional District. She helped create this district. But we all have probably experienced a time where we had something that we thought was great all of our lives and we don't know what else we have out there. There is that something else and I am that something else. I am a new voice and a new vision. I'm a young guy but I am passionate about politics. I am passionate about government and I am passionate about fighting for the people of this district. Every single day when I win this seat, I will be focused on what I can do to represent the people of the 30th Congressional District."