Dallas/Fort Worth celebrates the life and legacy of Dr. Martin Luther King Jr.
The Dallas Examiner | 1/15/2016, 8:34 p.m.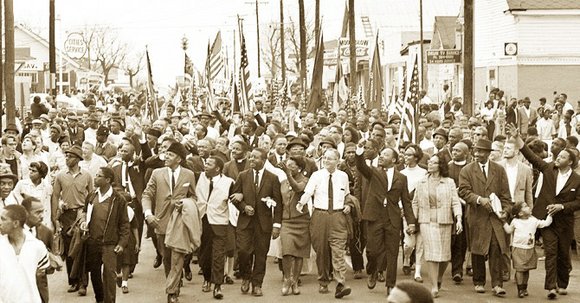 The Dallas Examiner
Dr. Martin Luther King Jr. Day is Jan. 18. the Dallas/Fort Worth Metroplex will celebrate the life and work of King Jan. 14 through Jan. 18.
The 34th annual Dr. Martin Luther King Jr. Birthday Celebration will kick off on Friday with a Celebration Fair at noon, followed by the MLK Civil Rights Museum open house at 4 p.m. and a candle light ceremony at 7 p.m. in the MLK Recreation Center, located at 2901 Pennsylvania Ave. It will continue on Saturday at 5:30 p.m. with a silent auction followed by an awards banquet at 6:30 p.m. featuring Dr. Jamal H. Bryant of Empowerment Temple A.M.E. Church in Baltimore, and an Afterglow event at 9:30 p.m. at the Hyatt Regency Dallas Hotel, 300 Reunion Blvd. It will conclude on Monday with a parade celebration.
For more than 30 years, two parades have celebrated Dr. Martin Luther King Jr. Day. But this year, on Monday, Dallas will host only one parade celebration. In years past, Elite News and the Martin Luther King Jr. Community Center applied for parade permits. The city of Dallas will partner with a private group, Celebrating Our Heritage. The parade theme has been altered slightly to "Reflect – Celebrate – Vote," the focus of the united event is "One Day. One Parade. One Celebration."
With Tom Joyner as the grand marshal, the parade route will span the entire length of Martin Luther King Jr. Blvd from Holmes Street, then to Robert B. Cullum into Fair Park. The city expects 150,000 people to attend the event.
More details will be provided in January at http://www.dallasmlk.com.
The Arlington MLK Celebration Committee will host one of the largest celebrations honoring Dr. Martin Luther King in the DFW Metroplex from Jan. 15 through Jan. 18. The celebration includes four days of music, step competition, essays, dance, art, spoken word, banquets, an inter-denominational church gathering, with a grand finale that culminates on King's birthday. Participants range from elementary, middle, high school and colleges students to all levels of city governments, fraternities and non-profit organizations.
The Arlington Martin Luther King, Jr. "Advancing the Dream" Awards Banquet will kick off the celebration on Jan. 15 at 6 p.m. in the Bluebonnet Ballroom of UT Arlington E.H. Hereford University Center, located at 300 W. First St.
The second day will feature a step show competition, a multicultural festival, and an invitation only international spoken word competition. The 10th annual Evening Of MLK Spoken Word Slam, hosted and coordinated by Mike Guinn, founder of Fort Worth Slams, along with the Arlington committee, will begin at 7 p.m. It will feature 15 international performance poets with HBO Def Poet, TV One Verses and Flows, National And International Slam Champions from all over the U.S. The winner will receive a $1000 cash prize. For Tickets contact James Hawthorne at 817-291-5895.
Sunday celebrations will feature an MLK Hubert Moss Ecumenical Service, with keynote speaker Dr. Evelyn Parker, Dean of the Perkins School of Theology at Southern Methodist University, at 6 p.m. at Most Blessed Sacrament Church, located at 2100 N. Davis Drive.