A note to Blacks on voting from Dr. Martin Luther King Jr.
Courtesy of The King Center | 1/15/2016, 8:37 p.m.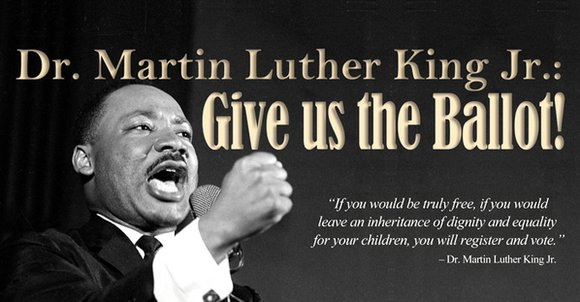 Dr. Martin Luther King Jr. is arrested with more than 200 activists while walking from the Brown Chapel A.A.E. Church to the courthouse, Selma, Alabama, Feb. 1, 1965..

Dr. Martin Luther King Jr. told journalists in Selma, Alabama, on Feb. 5, 1965, that he felt there was a need for new legislation on the right to vote. He vowed to continue the voter registration drive "until the victory is won." King was bearded following a five day stay in jail.
Photo 4: A courthouse official administers the oath to voter registration applicants in Montgomery, Alabama, Feb. 9, 1965. Dr. Martin Luther King Jr. led a group of almost 200 African Americans to the registrar's office in a voter drive.
Photo 5: Registrar Carl Golson shakes a finger at Dr. Martin Luther King Jr. during a meeting at the courthouse in Hayneyville, Alabama, March 1, 1965. King inquired about voter registration procedures but Golson told him that if he was not a prospective voter in Lowndes county, "It's none of your business." King visited two nearby counties after leading a voter registration drive in Selma.
Bloody Sunday: As 600 civil rights marchers on their way to the state capitol in Montgomery on a mission to demand the right to vote for all citizens began to cross the Edmund Pettus Bridge in Selma, Alabama, police and mounted officers dressed in riot gear sprayed them with tear gas, beat them with billy clubs, and trampled them with their horses, March 7, 1965.

On March 21, 1965, Dr. Martin Luther Jr. led 3,000 marchers from across the country on a final march for voters' rights across the Edmund Pettus Bridge. Afterward, he made his address from the steps of the capitol.
Photo 6: Dr. Martin Luther King, center, leader of the Southern Christian Leadership Conference, leads a parade of civil rights marchers from a rally in a church to Lafayette Park, opposite the White House in Washington, Aug. 5, 1965. The march capped two days of street corner rallies in Washington. On Aug, 6, the Voting Rights Act was signed into law by President Johnson, and King stated that he hoped to register 900,000 Blacks to vote in Southern states.